Digitized Primary Resources
Jean (McWilliam) McDonald
---
Jean McDonald (1877-1969), was a champion of working-class women's rights in Calgary, Alberta in the first half of the 20th century. Jean came to Calgary from Scotland in 1907 with her first husband William McWilliam, and their two small children. The couple separated in 1910, and Jean opened a boarding house and worked as a police matron. In 1937 she married William A. McDonald.
During the First World War, she founded the Calgary Next-of-Kin Association to support soldiers' wives who did not receive an adequate allowance. Jean was active in the labour movement after the war, appearing at the 1919 Mathers Commission in Calgary, testifying about the low wages and poor living and working conditions of women workers. She was a co-founder in 1919, of the Calgary Women's Labour League, and she also fought for better old age pensions and unemployment insurance during the Depression, among other social causes.
Jean corresponded with Calgary lawyer, politician and Prime Minister R.B. Bennett over many years. At a Calgary meeting about allowances for soldiers' wives they clashed and Bennett threatened to charge her with slander. Jean was not intimidated: "I looked him square in the eye and answered, 'Mr. Bennett, to the rest of the women of Calgary you may be God Almighty, but to me you are just plain R.B. Bennett, and you do not frighten me one bit!'"*
Jean McDonald's papers, consisting of an autobiography, poetry, photographs, reports and correspondence, are in the Glenbow Archives, in Calgary, Alberta. A fonds description can be found online at http://www.albertaonrecord.ca/jean-mcdonald-fonds, and it includes a link to her digitized autobiography.
Correspondence with R.B. Bennett on this website is courtesy of Jean-Anne Hawse, Calgary, and the University of New Brunswick (UNB) Archives & Special Collections (Richard Bedford Bennett fonds). For permissions to use UNB materials, please contact archives@unb.ca.
*Quoted in Kay Sanderson and Elda Hauschidt, 200 Remarkable Alberta Women (Calgary: Famous Five Foundation, 1999): 27.
Student & Academic Services for The Alberta Women's Memory Project - Last Updated January 09, 2019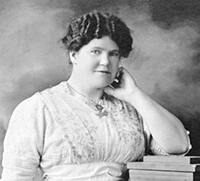 Collections
---
Biography
Correspondence
Poetry
Miscellaneous