News & Events
New book Muscle on Wheels by Ann Hall
September 17th 2018.
"Hall writes in a balanced tone suitable for an academic publication, yet allows an enthusiasm for her subject to shine through the narrative. While Armaindo's career is the book's heart, Hall also gives generous space to the other elite female cyclists of the day, painting a broad representation of Victorian pre-suffragette culture." Quill & Quire
Challenging the understanding that bicycling was a purely masculine sport, Muscle on Wheels tells the story of women's high-wheel racing in North America in the 1880s and early 1890s, with a focus on a particular cyclist: Louise Armaindo (1857-1900). Among Canada's first women professional athletes and the first woman who was truly successful as a high-wheel racer, Armaindo began her career as a strongwoman and trapeze artist in Chicago in the 1870s before discovering high-wheel bicycle racing. Initially she competed against men, but as more women took up the sport, she raced them too. The story of working-class Victorian women who earned a living through their athletic talent, Muscle on Wheelsshowcases an exciting moment in women's and athletic history that is often forgotten or misconstrued.
M. Ann Hall is professor emerita in the Faculty of Kinesiology, Sport, and Recreation at the University of Alberta.
AWMP receives 2017 Recognition Award from Edmonton Historical Board
February 1st 2018.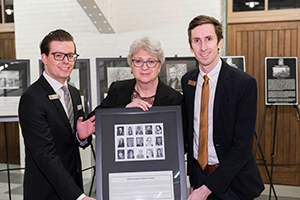 On February 1, 2018 Edmonton Historical Board members Dominic Schamuhn (on the left) and Daniel Rose (on the right) presented a 2017 recognition award to the Alberta Women's Memory Project, represented by Dr. Nanci Langford, co –chair. The project was started in 2000 by AU staff Cathy Cavanaugh (retired) and Nanci Langford, and Karen Langley is also currently co-chair.  Technical support is provided by Athabasca University. The AWMP site is being recognized for "its role in preserving women's experiences and documents relating to their lives in the province and for giving a voice and a perspective which have enriched the documentary history of Alberta."
The Annora Brown Life & Legacy Project from 2017 moves ahead with vigour on many fronts.
January 30th 2017.
She was so creative and used her many artistic skills in such inspired ways, I believe Annora's story shall find good traction with Young Innovators. Furthermore, her inspired works, reflecting the intimacy she felt for each subject, provides important templates which successors will appreciate.
Speaking of young people, students in the Digital Communications & Media Program of Lethbridge College are filming our radio-style dramatization of "Annora Brown: Interpreter of the Foothills". And a music/sound effects tract for the film is being developed by a University of Lethbridge Digital Audio Arts student. The drama is being filmed in three-parts, to be made available as a teaching resource in school classrooms.
Meanwhile, "Old Mans' Garden" is soon to be republished. Blackfoot elders are working with Mary-Beth Laviolette to help write a 21st century introduction for this historic, scientific, folkloric, artistic classic manuscript that Annora wrote in the 1930's. This newest edition will be a treasure for every book shelf.
Formation of the "Friends of Annora Brown Society" is currently awaiting registration with the Alberta Government. Once formalized, the Society will be open to members (and associate members) from throughout the region. The goals are for us to be able to do the following:
Help present the on-going story of Annora Brown's life and work.
Encourage further research and studies of the Annora Brown story and legacy.
Endeavour to follow her spirit of being on the cutting edge of learnings that would further her legacy.
Through membership fees and occasional fund-raisers, funds needed will cover costs for basic communication by the Society (including maintenance of web-site, electronic costs to hold virtual meetings, and directors' insurance.)
Encourage use of the Galt Museum Archives as the chief repository for Annora Brown memorabilia.
Maintain an on-going relationship with the Annora Brown Estate.
Be prepared to help support the work of the Society. We will let you know how we can work together as soon as the preliminaries are formalized.
Student & Academic Services for The Alberta Women's Memory Project - Last Updated September 17, 2018
Contact
Alberta Women's Memory Project
---