Archived News and Events
2018
New book Muscle on Wheels by Ann Hall
September 17th 2018.
"Hall writes in a balanced tone suitable for an academic publication, yet allows an enthusiasm for her subject to shine through the narrative. While Armaindo's career is the book's heart, Hall also gives generous space to the other elite female cyclists of the day, painting a broad representation of Victorian pre-suffragette culture." Quill & Quire
Challenging the understanding that bicycling was a purely masculine sport, Muscle on Wheels tells the story of women's high-wheel racing in North America in the 1880s and early 1890s, with a focus on a particular cyclist: Louise Armaindo (1857-1900). Among Canada's first women professional athletes and the first woman who was truly successful as a high-wheel racer, Armaindo began her career as a strongwoman and trapeze artist in Chicago in the 1870s before discovering high-wheel bicycle racing. Initially she competed against men, but as more women took up the sport, she raced them too. The story of working-class Victorian women who earned a living through their athletic talent, Muscle on Wheelsshowcases an exciting moment in women's and athletic history that is often forgotten or misconstrued.
M. Ann Hall is professor emerita in the Faculty of Kinesiology, Sport, and Recreation at the University of Alberta.
AWMP receives 2017 Recognition Award from Edmonton Historical Board
February 1st 2018.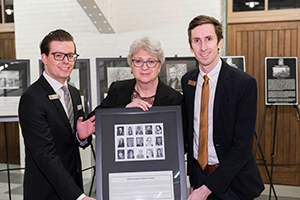 On February 1, 2018 Edmonton Historical Board members Dominic Schamuhn (on the left) and Daniel Rose (on the right) presented a 2017 recognition award to the Alberta Women's Memory Project, represented by Dr. Nanci Langford, co –chair. The project was started in 2000 by AU staff Cathy Cavanaugh (retired) and Nanci Langford, and Karen Langley is also currently co-chair.  Technical support is provided by Athabasca University. The AWMP site is being recognized for "its role in preserving women's experiences and documents relating to their lives in the province and for giving a voice and a perspective which have enriched the documentary history of Alberta."
2017

History Matters featured a series of posts that were developed from papers presented at the History of Women's Social and Political Activism in the Canadian West conference, with a short introduction to the series. Go to ActiveHistory.ca to read and comment on the posts.
January 31, 2017
The Annora Brown Life & Legacy Project from 2017 moves ahead with vigour on many fronts.
January 30th 2017.
She was so creative and used her many artistic skills in such inspired ways, I believe Annora's story shall find good traction with Young Innovators. Furthermore, her inspired works, reflecting the intimacy she felt for each subject, provides important templates which successors will appreciate.
Speaking of young people, students in the Digital Communications & Media Program of Lethbridge College are filming our radio-style dramatization of "Annora Brown: Interpreter of the Foothills". And a music/sound effects tract for the film is being developed by a University of Lethbridge Digital Audio Arts student. The drama is being filmed in three-parts, to be made available as a teaching resource in school classrooms.
Meanwhile, "Old Mans' Garden" is soon to be republished. Blackfoot elders are working with Mary-Beth Laviolette to help write a 21st century introduction for this historic, scientific, folkloric, artistic classic manuscript that Annora wrote in the 1930's. This newest edition will be a treasure for every book shelf.
Formation of the "Friends of Annora Brown Society" is currently awaiting registration with the Alberta Government. Once formalized, the Society will be open to members (and associate members) from throughout the region. The goals are for us to be able to do the following:
Help present the on-going story of Annora Brown's life and work.
Encourage further research and studies of the Annora Brown story and legacy.
Endeavour to follow her spirit of being on the cutting edge of learnings that would further her legacy.
Through membership fees and occasional fund-raisers, funds needed will cover costs for basic communication by the Society (including maintenance of web-site, electronic costs to hold virtual meetings, and directors' insurance.)
Encourage use of the Galt Museum Archives as the chief repository for Annora Brown memorabilia.
Maintain an on-going relationship with the Annora Brown Estate.
Be prepared to help support the work of the Society. We will let you know how we can work together as soon as the preliminaries are formalized.
2016
Saturday, January 9, 2016 - 10:00am to Saturday,
April 30, 2016 - 5:00pm
Reception Date: Jan 23, 2016 - 1:00pm to 3:00pm
2016 marks the 100th anniversary of women's right to vote in Alberta. On April 19, 1916 Alberta became the third province in Canada to allow women the right to vote, behind Manitoba (January 18, 1916) and Saskatchewan (March 14, 1916).
Thursday, March 17, 2016 at 2:00 PM
Historian and author Ellen Gasser, will share stories of one woman's journey from Wednesbury, West Midlands, the industrial heart of England, to the toil and hardship of daily living in the newly settled farming country of central Saskatchewan. Share in "Our Nell's" heartbreak, homesickness, struggles and courage living through the 1920's, dirty thirties and World War II in early western Canada.
Tuesday, April 19 at 2:00 PM
On April 19, 1916, Alberta women were granted the right to vote in provincial elections. Emily Murphy, Alice Jamieson and Nellie McClung commemorated this gain for equal suffrage in a most appropriate way – by shopping for new hats and having their photograph taken! Historian Susan Reckseidler will relate the stories behind this iconic moment in history. Join us in celebration of the efforts of these three dynamic women.
June 6 to August 14, 2016
October 28-30 2016, University of Alberta
October 28th to 30th, 2016.
University of Alberta
Conference participants will critically reflect on the history and legacy of diverse women's political and social activism at the grassroots, community, and formal/political levels. Please visit the Active Women Conference website for more information, registration, and the conference program
November 5th, 2016
2015
April 30 - May 1, 2015 - Mount Royal University
"We're seeking proposals for the 2015 Foothills Colloquium in Undergraduate History. We welcome papers from a wide range of national, regional, and thematic backgrounds as well as chronological periods. The Foothills Colloquium is a rare and excellent opportunity for undergraduate students in history to present papers alongside other students from across Canada." Please submit a title and 250-word abstract, as well as your name, institution, and contact information by January 15, 2015, to http://mruhistoricalsociety.wordpress.com/foothills/.
Talk: The Case of Harry Hospital and Other Stories from the Charles Camsell Indian Hospital
April 9th, 2015 7:00-8:00 pm, University of Alberta
As part of the Western Canadian History Lecture Series, presented by the University of Alberta's Department of History and Classics. Maureen Lux of Brock University will present this talk at the ATB Financial Arts Barn, 10330 - 84 Avenue, Edmonton. Reception to follow.
Talk: The Inconvenient Husband: Widows and Dominion Lands of the Canadian Prairies, 1870s-1930
March 18, 2015 University of Alberta
Part of the University of Alberta's Department of Women's and Gender Studies' Feminist Research Speakers Series on Intersectionalities. Sarah Carter, Henry Marshall Tory Chair and professor of History & Classics and Native Studies at the U of A, will be presenting this talk in room 363 of the Central Academic Building (CAB).
Talk: Fighting the Gender Eclipse: Metis Women's Knowledge and Their Connection to the Land
January 16th, University of Alberta
Part of the University of Alberta's Department of Women's and Gender Studies' Feminist Research Speakers Series on Intersectionalities. Nathalie Kermoal, professor of Native Studies at the U of A, will be presenting this talk in room 373 of the Central Academic Building (CAB).
2014
November 12th, Provincial Archives of Alberta
"Historian and Heritage Consultant Adriana A. Davies delivered a talk on "the growth in power of women of British descent in Alberta and the way in which this power was wielded through charitable organizations to support key causes including women's suffrage and the war effort." Davies' talk was part of a month-long lecture series presented by the Provincial Archives of Alberta, titled "Alberta & the Great War: Personalities & Perspectives."
November 10th, Published in the Edmonton Journal
"Prior to Remembrance Day 2014, Dan Barnes of the Edmonton Journal wrote about Edmontonian Dorothy Lincoln, who worked as an Enigma codebreaker at Bletchley Park during World War Two. To read her story, click on the title link above."
September 20th, 2-4pm, Royal Alberta Museum Theatre, Edmonton
"Announcing the first Mâmawapowin / Ti Tâga Orezuichiye / Gathering About First Nations: a public event celebrating aspects of Alberta's Aboriginal peoples' history. The gathering is a collaboration between several central Alberta First Nations, the Stoney Nakoda, the University of Alberta and the Royal Alberta Museum ... This year, the gathering is titled Ruth Gorman and the Fight for Aboriginal Rights in mid-20th Century Alberta. It will tell the little-known story of Ruth Gorman, one of the few female lawyers in Alberta in the 1940s and 1950s. Ms. Gorman acted for the Indian Association of Alberta and played an important role in securing the vote for Status Indians federally in 1960 and in Alberta in 1965. She continued to play an active role in Alberta's First Nations' communities and struggles until her death in 2002."
June 20, 2014, 1:30 pm, Heritage Park Historical Village, Calgary
"2014 inductee into the Alberta Order of Excellence and well known Edmonton author and historian Tony Cashman will tell the story of the 1929 Persons Case with an incredible multimedia and dramatic presentation showcasing and bringing to life his newest written work "Women are Persons: It's the Law."
The Famous 5 Centre of Canadian Women
June 20, 2014, 1:30 pm, Heritage Park Historical Village, Calgary
Join us on the afternoon of June 20, 2014 and explore Heritage Park's newest exhibit, which tells the story of influential women in Canadian history. This replica of Nellie McClung's home will be used to share the stories of the famous 5 group of Albertan women and other women in Canadian History.
May 7, 2014 - Reception and Artist Talk at 7:00
This art exhibit by Dawn Saunders Dahl runs from April 28 to June 22 at Galerie Cité (the public space of La Cité Francophone, 8627-91 St NW, Edmonton). "Alberta Farm and Ranch Women commemorates the present time by documenting Alberta's determined women and examines the uncertain future of our rural culture."
2014 Berkshire Conference on the History of Women: "Histories on the Edge"
May 22-25, 2014
The University of Toronto is hosting the first Canadian "Big Berks" in collaboration with co-sponsoring units and universities in Toronto and across Canada...
Exhibit: The Sisterhood of Longing and The Memory Rooms
April 25th, 2014 Opening Reception at 7:00
Art exhibits by Marlena Wyman. Runs until May 4th, Jackson Power Gallery, Edmonton. "The Sisterhood of Longing and The Memory Rooms honours personal and collective memory through a multi-disciplinary exploration of the concepts of heritage, family, remembrance, and mortality..."
Talk: Mothers of Bitumen: Social Reproduction in the Oil Sands Zone
February 13, 2014
Part of the Feminist Research Speakers Series from the University of Alberta's Department of Women's and Gender Studies, this talk is by Sara Dorow, Department of Sociology. From 3:30-4:50 in Central Academic Building (CAB) 239, University of Alberta.
January 16, 2014
Part of the Feminist Research Speakers Series from the University of Alberta's Department of Women's and Gender Studies, this talk is by Dr. Amy Kaler, Department of Sociology. Thursday, January 16, 2014, from 3:30 to 5:50 pm in Earth Sciences Building (ESB) 235, University of Alberta.
2013
December 2013
Marion Nicoll: Silence and Alchemy by Ann Davis, Elizabeth Herbert, Jennifer Salahub, and Christine Sowiak.
"Marion Nicoll (1909-1985) is a widely acknowledged and important founder of Alberta art and certainly one of a dedicated few that brought abstraction into practice in the province. Her life and career is a story of determination, of dedication to her vision regardless of professional or personal challenges. Nicoll became the first woman instructor hired at the Provincial Institute of Art and Technology (now the Alberta College of Art and Design)..."
A Glimpse of Alberta Women's History Onstage at the Edmonton Fringe Festival
August 16-25, 2013
Never Let the Crew See You Cry by Linda Wood Edwards, playing at the 2013 Edmonton Fringe Festival
"Never Let the Crew See You Cry, by Linda Wood Edwards, tells the story of Ethel Wood, a young woman from Stavely who worked as a flight line mechanic during the Second World War. The play follows Wood as she leaves home at age 17 and lies about her age to join Elementary Air Training School De Winton, where she helps maintain planes and prepare pilots for combat."
Tribute to Prairie Women of the Camrose District- CKUA Radio Report
August 9th, 2013
On August 3rd, 2013, the Camrose Heritage Railway Station hosted a celebration of local pioneer women with presentations, discussion, and homemade berry desserts. This event was featured on the CKUA Radio Network program ArtBeat.
Produced by Megan Clark for the July 28th, 2013 episode of ArtBeat on the CKUA Radio Network.
Coming Soon from the University of Calgary Press
September 2013
My Name is Lola by Lola Rozsa and Susie Sparks.
This book contains the collected memories of Lola Rozsa - of her life and service to her family, her church, and her community as she and her husband, Ted, made their way from the tiny towns of the Depression-era, dust bowl southern plains to the burgeoning oil fields of Alberta in 1949.
Collection of Original Plays Celebrates Women of the Canadian West
Her Voice, Her Century: Four Plays About Daring Women by David Cheoros, Karen Simonson, and Debbie Marshall, now available from Brindle & Glass Publishing Ltd.
An original collection of four plays about unsung women from the history of the Canadian west. With theatrical twists and turns, Her Voice, Her Century takes us from an English doctor stationed in the middle of Alberta's unsettled north country, to the lives and work of two influential early Canadian photographers, to a Canadian journalist covering the First World War, to the scandalous relationship between an Alberta politician and a young secretary.
New Book to Accompany Miriam Green Ellis Exhibit
May 2, 2013
A new book from the University of Alberta Press on the life and work of journalist Miriam Green Ellis entitled "Travels and Tales of Miriam Green Ellis: Pioneer Journalist of the Canadian West", has been launched to accompany an exhibit of her collections currently on display at the University of Alberta's Bruce Peel Special Collections Library.
About the Miriam Green Ellis Exhibit.
New from the University of Alberta Press
May 2, 2013
"Disinherited Generations: Our Struggle to Reclaim Treaty Rights for First Nations Women and their Descendants" by Nellie Carlson and Kathleen Steinhauer, with Linda Goyette.
This oral autobiography of two remarkable Cree women tells their life stories against a backdrop of government discrimination, First Nations activism, and the resurgence of First Nations communities.
2012
"Stories not soon forgotten..."
March 22, 2012
Mary Savage, a free-lance writer for Routes magazine, tells the tale of the Alberta Women's Memory Project in her article "Stories not soon forgotten..." Routes magazine is distributed to the communities south of Calgary, Alberta — and Mary includes an invitation for women of that area to donate their collections and their memoirs to the Alberta Women's Memory Project.
To view the "Stories not soon forgotten..." article, go to Routes magazine: http://routesmagazine.ca/2011/11/stories-not-soon-forgotten.../
Edmonton's Avenue Magazine Includes Article on AWMP
March 9, 2012
Edmonton's Avenue Magazine, March 2012 edition, includes an article on the Alberta Women's Memory Project.
2011
"Helen's Stuff", a tribute to women's influence on Alberta
December 19, 2011
"The past can speak to us when we have artifacts to interpret and learn from. Helen Signe Petersen Bentley felt strongly enough about some of her belongings to keep them throughout her life. Now those items have been donated to the Alberta Women's Memory Project..."
To view the complete article, please click here. (PDF - 130KB).
First Fundraiser for Alberta Women's Memory Project a Success
December 16, 2011
The warmth of women's voices by Erin Ottosen
Joy and elation filled the TELUS Centre in Edmonton on November 15, when the Alberta Women's Memory Project (AWMP) held its inaugural fundraiser, A Celebration of Women's Voices from the Past to the Future.
To view the complete article, please click here (PDF - 180KB).
Book Launch:
Re-Imagining Ukrainian Canadians
September 7, 2011
The Edmonton launch of the University of Toronto Press' Re-imagining Ukrainian Canadians: History, Politics and Identity will take place on Friday, September 16, 2011 at the newly renovated St. John's Institute on Edmonton's historic Whyte Avenue.
Ukrainian immigrants to Canada have often been portrayed in history as sturdy pioneer farmers cultivating the virgin land of the Canadian west. The essays in this collection challenge this stereotype by examining the varied experiences of Ukrainian-Canadians in their day-to-day roles as writers, intellectuals, national organizers, working-class wage earners, and inhabitants of cities and towns.
Among the contributors to the collection are Edmonton authors Jars Balan, Serge Cipko, Karen Gabert and Peter Melnycky, who have written on topics as diverse as the literary contributions of the Ukrainian pioneers, the establishment of the Ukrainian Cultural Heritage Village and international diplomacy.
Edited by Rhonda L. Hinther and Jim Mochoruk, this volume is seen to give the area of Ukrainian Canadian scholarship a new direction for exploration. The collection is dedicated to the long and accomplished career of Myron Momryk, archivist, scholar and promoter of ethnic studies in Canada.
Members of the public and media are invited to attend the book launch.
Date: Friday, September 16, 2011
Time: 7:00 pm
Location: St. John's Institute, 11024 Whyte Avenue, Edmonton, Alberta
Parking: Free Parking - Please RSVP to reimagininglaunch@gmail.com to receive your parking pass via email
Any Early Review
'Re-imagining Ukrainian-Canadians takes Ukrainian-Canadian history in new directions with its strong group of essays, the quality of which are up with the best in the field. Rhonda L. Hinther and Jim Mochoruk's effectively organized collection will appeal to those interested in Canadian social and political history, as well as the history of the country's left- and right-wing ideologies and movements.'
- John Manley, Department of History, University of Central Lancashire
For more information, interviews or images, please contact Jason Golinowski at 780-435-7280.
Background
"Re-imagining Ukrainian Canadians: History, Politics and Identity"
Edited by Rhonda L. Hinter and Jim Mochoruk
Rhonda L. Hinther is the head of research and curation at the Canadian Museum for Human Rights.
Jim Mochoruk is a professor in the Department of History at the University of North Dakota.
About Edmonton Authors
Jars Balan is the Administrative Coordinator of the Kule Ukrainian Canadian Studies Centre and the Canadian Institute of Ukrainian Studies. He has authored numerous articles on a wide variety of Ukrainian Canadian themes, his areas of special interest being Ukrainian Canadian literature, theatre and church history. He has also edited several books and journals and had his English translations of literary works by Ukrainian and Ukrainian-Canadian writers published in Canada and Ukraine. In addition to his academic endeavours Jars has been active in the field of heritage tourism, having organized Alberta's Kalyna Country Ecomuseum and consulted on rural tourism projects in Ukraine.
Serge Cipko is Coordinator of the Ukrainian Diaspora Studies Initiative, Kule Ukrainian Canadian Studies Centre at the Canadian Institute of Ukrainian Studies, and assistant Adjunct Professor in the Department of History and Classics, University of Alberta. He is the author of St. Josaphat Ukrainian Catholic Cathedral, Edmonton: A History (1902 – 2002) (2009); co-author, with Glenna Roberts, of One Way Ticket: The Soviet Return-to-the-Homeland Campaign, 1955-1960 (2008); and co-editor, with Natalie Kononenko, of Champions of Philanthropy: Peter and Doris Kule and their Endowments (2009). His book, Ukrainians in Argentina, 1897-1950: The Making of a Community, will be published in 2011.
Karen Gabert completed the Master of Arts in Public History program at Carleton University, focusing her research on public commemoration and heritage sites. She has worked on a number of heritage and public history research projects in Ottawa and Edmonton, including oral and archival research for the Ukrainian Village. Karen currently works for a consulting firm in Edmonton.
Peter Melnycky was born and raised in Winnipeg, Manitoba. He earned his MA in Social Sciences form the University of Manitoba. His thesis: "A Political History of the Ukrainian Community Manitoba, 1899 – 1922," was awarded the Manitoba Historical Society's Margaret McWilliams Medal for outstanding work on Manitoba History. Since 1982 he has been a historian with Alberta Historic Sites and Museums. He has written on the history of Alberta and has a particular interest in fur trade, settlement, and military history.
The History of Girls and Women
hosted by Lapidus Edmonton
August 24, 2011
Why is your story important? Why might the city or provincial archives be interested in how you are living now?
Hear Women's History expert Nanci Langford, PhD, speak about her knowledge and experience with the archives and women's history projects. Find out why you writing your story is important. Bring pen and paper.
Friday, October 14, 2011
6:30 - 9:30 pm
Decadent treats will be served with tea and coffee. (Gluten free)
Location: Private home
To register by e-mail contact Reinekke Lengelle at: soulwork@tic.ab.ca
September 19 and onwards you may also call to register:
780-440-1430
Adults: $35.00
Girls: $15.00
For more information: http://www.blacktulippress.com/Site/Lapidus.html
An Evening in Celebration of the Alberta Women's Memory Project
February 16, 2011
The Thomas A. Edge Archives & Special Collections and Athabasca University invite you and a guest to celebrate the launch of Alberta Women's Memory Project website and collection Wednesday, March 2, 2011, 4:00-7:00 p.m., at the City of Edmonton Archives in the Governor's Room 10440 - 108 Avenue Edmonton, AB.
At this event we will celebrate the launch of our newly redesigned website (http://awmp.athabascau.ca/) and thank the women who have generously contributed their diaries, letters and memoirs for the project. We will talk about the importance of women's records and how to preserve them, so future researchers have an inclusive, more complete understanding of Alberta women's unique perspectives, contributions and experiences.
The Alberta Women's Memory Project is a collaborative project among scholars, archivists, writers and researchers who are committed to preserving the history of women in Alberta. To learn more about the project, please visit our website at http://awmp.athabascau.ca/.
Please RSVP by email to Karen Langley (karenl@athabascau.ca) by February 17, 2011 if you plan to attend.
2010
October 18, 2010
The Alberta Women's Memory Project (AWMP) is digitizing original historical materials that document the history of women in Alberta. They will be made available to students and the public on our website: http://awmp.athabascau.ca/.
If you have any diaries, letters, newsletters, clippings, photographs, periodicals, artwork, audio files, videos, or other original materials relating to women in Alberta, and wish to have them digitized and featured on our site, please send them to us at awmp@athabascau.ca.
AWMP gets a new look!
October 18, 2010
The Alberta Women's Memory Project (AWMP) is pleased to announce the launch of their newly redesigned web site: http://awmp.athabascau.ca/.
Learn about the Importance of Women's Records and how to Donate Records, view our Memoir Collection and much more.
Special thanks to all of those involved in helping to improve our website.
For more information, contact awmp@athabascau.ca.
Student & Academic Services for The Alberta Women's Memory Project - Last Updated February 19, 2019