Digitized Primary Resources
Branching Out
In the fall of 1973, a small group of women who had never before met gathered in Susan McMaster's living room in Edmonton to talk about starting a Canadian magazine by and for women. Their vision tapped into the growing ferment in Canada in two areas, feminism and the arts. The result was Branching Out, a magazine unlike any the country had seen before -- a national general interest magazine published on quality stock paper and produced entirely by women. Branching Out featured original fiction, poetry, photography and artwork, along with articles on topical issues on women's emerging presence in such areas as politics and sports, and evolving laws on abortion, rape, and women in the work force.
Branching Out gathered some 2500 subscribers from across the country at its height, with another 1500 copies distributed on newsstands, an exceptional record for the alternative press in Canada at the time. It offered many women their first opportunity to work in publishing. Voluntary and consensual in structure, the project centred on a stable core plus numerous short-term volunteers, with primary guidance from editors McMaster (1973-1975) and Sharon Batt (1975-1980). In 1980, the demands of producing a national general interest magazine almost entirely by volunteers forced its closure. Contributions included early work by many women who have since gone on to successful careers in journalism, literature, the visual arts, law and politics. Established writers like Margaret Atwood and Dorothy Livesay contributed work and the magazine profiled women like politician Rosemary Brown, athlete Ann Hall and filmmaker Anne Wheeler, who were challenging the predominantly male face of the arts and public life in Canada.
In  2012, University of Alberta doctoral student Tessa Jordan completed a dissertation in which she examined Branching Out's place as part of second wave feminist publishing in Canada, opening up an important conversation between post-millennium feminists and their baby boom predecessors.  You can read her dissertation here, and an article published in the journal English Studies in Canada here. Branching Out is part of the Alberta Women's Memory Project at Athabasca University.
Student & Academic Services for The Alberta Women's Memory Project - Last Updated October 17, 2016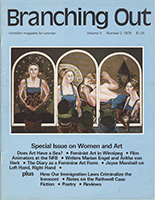 Collections