Digitized Primary Resources
Ruth Gorman fonds
Ruth Gorman was born in Calgary, Alberta on February 14, 1914 to Colonel Mark Bennett and Fleda Pattyson Peacock. Ruth received her primary and secondary education in Calgary and then attended the University of Alberta in Edmonton, Alberta. She graduated from the University with a Bachelor of Arts (1937) and a Bachelor of Laws (1939) and in 1940 was admitted to the Alberta Bar Association.
Throughout her professional legal career she volunteered her services and worked on behalf of various aboriginal, political and women's groups. She was a member of the Calgary branch of the Local Council of Women as well as the Western Canada Concept party. Most notably, Gorman volunteered as the solicitor for the Indian Association of Alberta and worked with John Laurie, Howard Beebe, Chief Johnny Samson, and Gerald Tailfeathers to have section 112 from the Indian Act repealed to allow Aboriginal people to become enfranchised and vote without losing their treaty rights.
Gorman was honoured with many awards throughout her life including Calgary's Woman of the Year (1960), Citizen of the Year (1961), Alberta Woman of the Century (1961) and, in 1968; she was made an Officer of the Order of Canada. She was awarded a honourary doctorate from the University of Alberta in 1966 and in 1957 was given the title of Queen Morning Star of the Cree for the work she was doing for the Alberta Aboriginal community.
Gorman also had an interest in publishing and became both publisher and editor of Golden West Magazine, which ran from 1965 through to 1977. Though Ruth Gorman resigned as official solicitor of the Indian Association of Alberta in 1962, she still actively volunteered for Aboriginal issues and others in need until her death on December 10, 2002.
Student & Academic Services for The Alberta Women's Memory Project - Last Updated October 18, 2012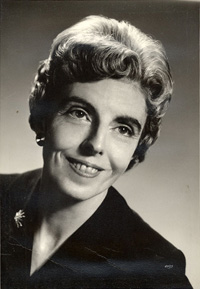 Collections