Profiles of Alberta Women
Eleanor Collins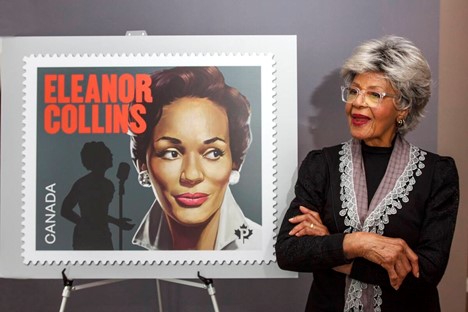 Eleanor Collins with a commemorative stamp issued by Canada Post in 2021. Image courtesy of Michael Desjardins, Pinpoint Photography.
Early life
Elnora (later called Eleanor) Ruth Collins (née Procter) was born in Edmonton, Alberta on November 21, 1919 to Richard Ellis Proctor and Estella Mae Cowan Proctor, settlers who came to Alberta with a group of 1000 African-American homesteaders from Oklahoma, Ohio, and Kansas. Fleeing the segregated United States, the group came to Canada in response to an 1906 newspaper advertisement from the Canadian government offering settlers the opportunity to buy a quarter-section of uncleared land for $10, provided they would set to work clearing and working the land.1
As a young girl Eleanor grew up in Edmonton, where her father Richard worked delivering furniture with a horse and dray wagon. After an injury left him unable to continue his work, Estella stepped into the role of breadwinner, establishing a hand laundry service out of their home where Eleanor and her sisters would work. Speaking of her mother, whose education had ended at the fourth grade, Eleanor recalled "She went down to the business people, in fact, the fathers of the city, told them 'I live in a residential area, but I want to run a hand laundry . . . I want to be able to earn my own bread for my children' . . . they were so taken with the guts, I suppose, of this woman, and knowing that she had a husband that was not able to work, and they just said yes, you can have one."2
From childhood, music was a central part of Eleanor's life. Her family had a tradition of singing hymns, spirituals, and other music, both while at home and at the Baptist church they attended. With musical parts distributed to family members, and with chastisement for those who erred, her family performances served as her schooling, and helped Eleanor's musical talent to blossom.3 Eleanor's parents also had an upright piano in their Edmonton home, and the family would return from the movie theatre and together recreate the music of whatever film they had gone to see.4
As a teenager, Eleanor took her musical talents outside the home, and began to perform publicly. At 15, she entered into and won an amateur hour singing contest. At 16, on the suggestion of her mother, Eleanor began singing at the supper hour of a nearby restaurant on Saturday nights.5 She also performed with a few groups while in Alberta, including The Three E's and a dance band. It was also in Edmonton that Eleanor had her first experience with broadcasting. After winning the amateur hour, she sang a number of times on the weekly show Good Morning, Neighbor on CFRN, a local radio station. However, it was not until she moved to Vancouver that Eleanor's musical career really took off and set her on the path that would see her crowned the first lady of jazz.
Musical career
In the late 1930s, Eleanor moved to Vancouver, British Columbia, where her sister Ruby had already moved, and where her other sister Pearl would follow in 1941.6 A few years after moving to Vancouver, Eleanor performed on CBC Radio with Swing Low Quartet, a group including her and both of her sisters. That stint from 1940 to 1942 would be the first of many associations she would have with the CBC in her music career.
In Vancouver Eleanor met Richard (Dick) Collins, who at the time was working as an airport porter. The two were married in 1942, and set to work raising a family, having four kids: Rick, Judith, Barry, and Tom. After her wedding, Eleanor took a break from performing to focus on raising her growing family, but by the mid-1940s a chance meeting and a desire to supplement her family income conspired to put Eleanor back on the airwaves.
In 1945, Eleanor accompanied a friend on a visit to Hotel Vancouver, where CBC Radio maintained a studio. There she met Ray Norris, a guitarist who had formed the Ray Norris Quintet in 1941.7 After hearing Eleanor sing, Norris invited her to join the quintet, and she sang with them until 1947. The band had its own show on CBC Radio called Serenade in Rhythm, which ran until the 1950s, and was played during the Second World War for Canadian troops stationed in Europe.
In addition to radio, Eleanor lent her voice to a variety of theatre productions in Vancouver. In the early 1950s she performed with Theatre Under the Stars, a musical theatre company in the city. With them she sang in Kiss Me Kate in 1953, and performed in a production of Finian's Rainbow in Stanley Park in 1952 and again in 1954. In the 1952 production, the role of one of the sharecroppers, a larger part in the play, went to a white woman. Eleanor recalled "they put dark make-up on one of the ladies who could sing and used her as the Sharecropper – a bigger role."8 When, in 1954, Eleanor was asked back to sing in the remounting of the play, she agreed on the condition that she played the sharecropper role, a condition that was met.
Her outstanding performances in theatre and on radio eventually led Eleanor to television, where she would become a household name. In 1954, a year after local television came to Vancouver, Eleanor appeared as a featured singer on Bamboula: A Day in the West Indies, a variety show that was the first musical television show to be broadcast from Vancouver. The three-episode series, which showcased the music and culture of the Caribbean, broke ground in Canada as the first television show in the country to feature a mixed-race cast.
After the success of Bamboula, Eleanor again made history when, in 1955, CBC made her the host of her own variety series, The Eleanor Show. Her show marked the first time a female Canadian singer was given her own show, and also made her the first Black artist in North America to have a television show broadcast nationally.9 Running weekly from June 19 to September 11, 1955, The Eleanor Show was hosted by Alan Millar, and starred Eleanor alongside musical acts including pianist Chris Gage and the Ray Norris Quintet. In 1964 Eleanor reprised her role as a star on a CBC show titled simply Eleanor, singing show tunes and pop music while backed by the Chris Gage Trio.10
In addition to her two shows, Eleanor did a wide variety of television performances across her career. She guested on other variety shows such as Riding High and The Jackie Rae Show, appeared on episodes of television shows including Pacific 13, played a role on the CBC TV religious show Place of the Skull, and had many other televised appearances across the 1950s and 1960s. She also made many live appearances, including a performance at the first Vancouver International Festival in 1958, and a show at the Seattle World's Fair in 1962 where she performed alongside Chris Gage and other Canadian musicians.
After the 1960s, the variety show became less dominant in television programming, and Eleanor's appearances became less frequent. However, with her reputation as Vancouver's first lady of jazz established, she continued to make appearances at various events in Vancouver and across Canada. In 1975 she participated in a Dominion Day concert held on Parliament Hill in Ottawa, and in the 1980s she revisited her hometown of Edmonton to perform at the Jazz City International Jazz Festival. Her occasional appearances continued into her golden years, with one of her performances being at the age of 95 at the Stayed on Freedom Concert in Vancouver.11
Family life
Despite a career that blossomed and grew from the 1950s onward, Eleanor remained committed to being a present and dedicated partner and mother. As her national and international renown grew, she began to get offers to play shows in the United States, but she always declined, preferring to stay in Vancouver where she could be close to her family. Though the life of a touring performer was on offer, to Eleanor it was an automatic decision to prioritize her children and stay in Vancouver.12
---
"Fame, you see, there's a price you pay. It's lovely to be famous, but, what do you do when you take off the makeup, and you look at yourself in the mirror, and you remember you have youngsters at home, wonder what they are doing. You know, I could never take that."
ST40TV, "Vancouver's 1st Lady of Jazz Eleanor Collins. THEN & NOW," YouTube Video, May 13, 2011.
---
It was while raising her children in Vancouver that Eleanor and her family faced and overcame particularly overt and targeted racism. In 1948, after she had started her family with Dick, Eleanor moved to a home in Burnaby, a then all-white community just east of Vancouver. The community responded by starting a petition to try to force their first Black residents to move, and the Collins children were met with bullying at their new school.
In response to the community's racism, Eleanor chose to put herself forward and act to make the neighborhood a better place by offering her time and services. She volunteered at her children's schools, teaching music to the students, and spent time giving music lessons to the local Girl Guides. By inserting herself into the community and meeting hate with love, Eleanor practiced a principle which informed her life. In her own words, "I'm a great believer that wherever you are, whatever corner you are [sic], you can be doing everyone some good, everyone, by making sure that you have yourself centred, that you are a person who's in harmony with the universe, that is giving out the right vibes. That will help everyone."13
---
Eleanor Collins' storied life and career were recognized in 2014, when she was made a member of the Order of Canada for her contributions to both music and race relations. The honour represented recognition of a lifetime of firsts and of breaking barriers, both for women and for Black Canadians, both in Eleanor's community and on the stage. Her contributions were also recognized in 2022, when Canada Post featured her on a stamp released on January 21, 2022. Though she rarely performs in her later years, she still remains engaged in the world of performance, keeping up to date on emerging talent through shows like So You Think You Can Dance.
Read more about Eleanor Collins
---
Footnotes
1 "Eleanor Collins, C.M.," The Governor General of Canada, 2014, https://www.gg.ca/en/node/153.
2 ST40TV, "Vancouver's 1st Lady of Jazz Eleanor Collins. THEN & NOW," YouTube Video, May 13, 2011, https://www.youtube.com/watch?v=mT-aE-KbQWo.
3 "Eleanor Collins: November 21, 2019 – A Century of Black History!," BC Black History Awareness Society, 2019, https://bcblackhistory.ca/eleanor-collins/.
4 Sheila Reynolds, "The Eleanor Show," Surrey Leader (Surrey, BC), Nov. 7, 2003.
5 CBC News, "Eleanor Collins, Canada's first lady of jazz, turns 100," YouTube Video, Nov. 22, 2019, https://www.youtube.com/watch?v=dTZK7CVrrts.
6 Damian Inwood, "Blue's for Jimi's Aunt," The Province (Vancouver, BC), Sept. 23, 1993.
7 Mark Miller, "Norris, Ray," Grove Music Online, 2003.
8 Christine Hagemoen, "Groundbreaking Eleanor Collins, the City's 'First Lady of Jazz,'" Scout, Feb. 22, 2017, https://scoutmagazine.ca/2017/02/22/you-should-know-about-groundbreaking-eleanor-collins-the-citys-first-lady-of-jazz/.
9 Betty Nygaard King, "Eleanor Collins," The Canadian Encyclopedia, May 30, 2017, https://www.thecanadianencyclopedia.ca/en/article/eleanor-collins-emc; "Eleanor Collins: November 21, 2019 – A Century of Black History!," BC Black History Awareness Society, 2019, https://bcblackhistory.ca/eleanor-collins/.
10 Hagemoen, "Groundbreaking Eleanor Collins, the City's 'First Lady of Jazz.'"
11 Thomas Guenther, "Eleanor Collins-Jazz legend of Canada," YouTube video, Mar. 16, 2015, https://www.youtube.com/watch?v=qcv5vecggNU.
12 ST40TV, "Vancouver's 1st Lady of Jazz Eleanor Collins. THEN & NOW."
13 Ibid.
Student & Academic Services for The Alberta Women's Memory Project - Last Updated May 10, 2022
Related Links