Profiles of Alberta Women
Lillian Shirt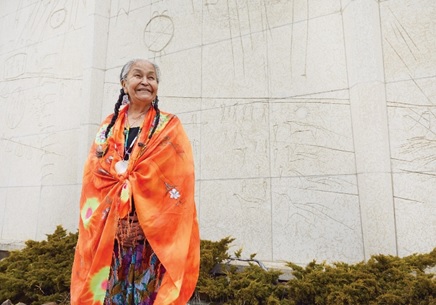 Image courtesy of Colin Way Photography.
Personal life
Lillian Shirt was born on March 2, 1940 at the Saddle Lake First Nation in Alberta, Canada to Felix and Louisa Shirt. From an early age she experienced the discriminatory and repressive policies of the Canadian government. Prohibitive policies forced her and her community to participate in their traditions and ceremonies in secret as these practices had been criminalized. At five years old she was taken from her family and brought to the Blue Quills residential school in St. Paul, Alberta, where she lived for many years. In 1954 as a teenager Lillian was taken to Charles Camsell Hospital in Edmonton, Alberta, to be treated for tuberculosis.
Despite the dire circumstances of her arrival, and the segregated treatment received at the hospital, Lillian's experience at the hospital had a positive impact on her life. She made friends with a nurse who nurtured a love of reading and writing in her and supported her education by paying for distance learning courses. In particular, the author Albert Schweitzer had an impact on her, with one of his books reminding her of a quote of her grandmother's: "If you have a strong mind, you can do anything."1
As Lillian grew older, she continued to experience racism on a daily basis, although at the time it did not register to her as such. At one point, while babysitting for a family in Edmonton, the father of the family noticed that Lillian would sometimes walk home instead of taking the bus. When he asked Lillian why she did this, Lillian told him that sometimes the bus drivers would refuse to let her ride. As Lillian tells it, the next time she went to take the bus, the man came with her, and demanded that she be allowed to ride.2
By the time she was in her mid-20s, racism and its daily consequences for her and her people had become clear to Lillian. At 26, as a mother of (then) four children she found herself struggling to find housing for herself and her family. A single Cree mother, she had experienced eviction and discrimination from landlords refusing to rent to her. Concerned for the wellbeing and education of her children, and fed up with the existing ineffectual human rights laws, Lillian again drew on the wisdom of her grandmother, who had told her "When you have pain, turn it around so that you gain by it."3 In the summer of 1969 Lillian took action that brought her and the situation of Indigenous peoples in Canada to the attention of national and international audiences, and launched a lifetime of activism.
Activism
On May 30th 1969 Lillian set up her grandmother's tipi in Winston Churchill Square in Edmonton, in view of City Hall, the police station, and the courthouse. In the following months, Lillian lived with her children in the tipi, declaring her refusal to move until issues of housing, education, and welfare for Indigenous children were addressed. She was eventually joined by other protesters in tents, as well as another tipi, and the momentum of her movement led to the founding of the Citizens' Committee on Housing and Discrimination (CCHD).
---
"I was so angry that day . . . Even though we would try to battle against landlords or [problems with] education, the human rights laws were just so lax and useless, we would lose every time. I know we had to change the human rights laws to see any difference."
Caroline Barlott, "Imagine," Avenue Magazine Edmonton, May 30, 2017.
---
After a few weeks in Churchill Square, she moved her tipi to the grounds of the Alberta Legislature, at which point she and some members of the CCHD were confronted by police. However, Lillian's movement was not to be denied, and the cabinet of Alberta Premier Harry Strom opted to grant permission for the raising of the tipi through an Order in Council, after which many more tents joined Lillian on the grounds. This was followed by a presentation to the cabinet by the CCHD which kicked off planning by the Alberta government for subsidized housing.
---
"Anyway, I decided I was going to do something about it, it was in May, and I thought, 'Well, how am I going to do this? I am not many in number, not too many people will risk anything,' and I looked at it from all different directions. Looked at it, 'How am I going to do this?' So . . . I went picked up my tipi at my grandma's, cause I had decided what I was going to do. I was going to put up a tipi right smack dab in the middle of Churchill Square – right in front of City Hall, where the mayor could see me from his desk."
Corinne George, "'If I Didn't Do Something, My Spirit Would Die…': Grassroots Activism of Aboriginal Women in Calgary and Edmonton, 1951-1985," Master's thesis, University of Calgary, 2007.
---
It was while she was still living on Churchill Square that Lillian had a now famous phone conversation with John Lennon, member of The Beatles. Lennon, who was in Canada at the time, heard of Lillian's story and contacted Edmonton radio station CJCA to ask to speak to her. As told by Lillian and documented by Corrine George as part of her master's thesis, the story goes that Lennon asked Lillian if she had a message she would like to share with the world. Lillian shared with him a saying of her grandmother's, 'Keespin esa Kasakehetoyah, Kasetos-katoyah, Kawechehetoyah, Namoya Ka-no-tin-to-nanhoyo,' which she translated for him from Cree as 'Imagine that if, there was no hate, if we loved each other, we loved one another, that there would be no war between us.' According to Lillian, Lennon asked her if he could use those words, and she acquiesced. Years later she heard Lennon's song "Imagine" on the radio, and she was reminded of her interview.4
Whether or not the song was in fact inspired by Lillian's grandmother's words, Lillian certainly was. In 1969 she traveled to Alcatraz Island to participate in an occupation with the Indians of All Tribes (IOAT) who claimed that legally the land of the closed prison should be returned to the tribes that formerly occupied it. She also participated in the Smallboy Camp founded by Chief Robert Smallboy in the Kootenay Plains, Alberta. Smallboy founded the camp to shine a light on conditions of Indigenous peoples in cities and reserves in Alberta, setting up his camp as a return to the land. Lillian joined the camp and lived there for five years. While there, the open celebration of and participation in Indigenous traditions was a contrast to Lillian's experiences as a child. She recalled "We didn't have to hide anymore. But I was still scared and I'd say: 'What if the cops come?'"5
In addition to participation in actions and protests, Lillian contributed to the founding of many organizations and institutions for the betterment of educational opportunities for Indigenous children. While living in the Smallboy Camp she contributed to the creation of the Robert Smallboy School. In 1972 she participated in the founding of the Nekaw Daycare, a school that took Cree as its first language. She was likewise an organizer of the Sacred Circle program at Prince Charles School in Edmonton, promoting education of and education about Canada's Indigenous population alongside her sister Jenny Margetts. She was also a long-time supporter of the Nechi Institute, an organization dedicated to physical, mental, and spiritual wellbeing.
Though education was a primary focus for Lillian, she also concerned herself with the legal rights and status of Canada's Indigenous peoples. At twenty-four, Lillian visited a prison for the first time, an experience that was part of her inspiration for helping to establish the Alberta Native Peoples Defense Fund. The Fund was designed to provide legal aid to Indigenous people, and offered, among other things, financial support for acquiring lawyers, and housing for individuals while they did education by correspondence. Lillian also contributed with Jenny to Indian Rights for Indian Women (IRIW), an organization formed in 1968 after the First Alberta Native Women's Conference. Both the conference and IRIW focused on discrimination against Indigenous women, particularly sexual discrimination found in subsection 12(1)(b) of the Indian Act. IRIW fought for decades for equal rights for Indigenous women, culminating in Bill C-51 in 1985 that was passed to end sexual discrimination in the Indian Act.
---
After a lifetime of fighting for the rights of women, children, and Canada's Indigenous population, Lillian passed away on July 18, 2017 at the age of 77. Even in her old age Lillian continued to be active, volunteering in classrooms and educating children about Indigenous culture, language, and prayer right up to her death. Half a century after she planted her tipi in protest, Lillian was able to see real change, and celebrate successes. In an interview with Edmonton's Avenue Magazine she said "Sometimes I will go if I hear there is a graduation at the University of Alberta of aboriginal students in law or Native Studies. I will go to there and . . . sit in the back row and just clap."6
---
Footnotes
1 Caroline Barlott, "Imagine," Avenue Edmonton, May 30, 2017, https://www.avenueedmonton.com/city-life/imagine/.
2 Ibid.
3 Ibid.
4 Lillian Shirt, Corinne George, & Sarah Carter, "Lillian Piché Shirt, John Lennon and a Cree Grandmother's Inspiration for the Song 'Imagine'," Active History, December 5, 2016, https://activehistory.ca/2016/12/lillian-piche-shirt-john-lennon-and-a-cree-grandmothers-inspiration-for-the-song-imagine/.
5 Barlott, "Imagine," https://www.avenueedmonton.com/city-life/imagine/.
6 Ibid.
Student & Academic Services for The Alberta Women's Memory Project - Last Updated March 03, 2022
Related Links