Profiles of Alberta Women
Evangeline Lilly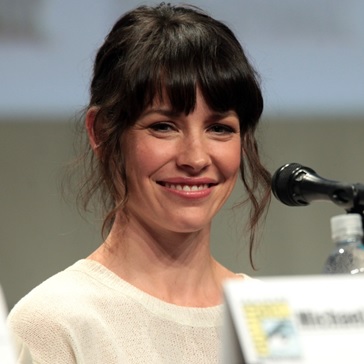 Evangeline Lilly speaking at Comic Con 2014. Image courtesy of Gage Skidmore, Wikimedia Commons. CC BY-SA 2.0.
Personal life
Nicole Evangeline Lilly was born on August 3, 1979 in Fort Saskatchewan, Alberta, where her father worked as a produce manager at Safeway, and her mother worked at a perfume and makeup counter, and operated a day care from their home. Evangeline's parents raised her and her two sisters as Baptist and Mennonite, and imparted in them a humanitarian spirit, bolstered in particular by the missionary background of her father's side of the family.
When she was still in school Evangeline's family moved from Alberta to British Columbia, where she attended and graduated high school at W. J. Mouat Secondary School in Abbotsford, British Columbia. After high school she traveled with her church on a humanitarian trip to the Philippines, where she spent time living in rural areas and backpacking. Her work with her church inspired her to enter the field of humanitarian work, and after she returned she enrolled at the University of British Columbia in their international relations program. While at UBC, she established and helped to run a committee for world development and human rights.
Career
Before she began her acting career, Evangeline worked a wide variety of jobs, including waitress, flight attendant, teacher's aid, and doing oil changes and other jobs on big rig trucks. It was while she was working as a waitress and air hostess in Kelowna, BC, that Evangeline encountered a representative for the Ford modelling agency, who gave her a business card. While she initially did not pursue the offer, a few years later, when she was a student struggling to make ends meet, she called up the representative.
Through the agency she began to work a variety of jobs in commercials, film, and television. She landed parts as an extra in the television shows Tru Calling and Smallville, and in the films Freddie vs. Jason and White Chicks. The small roles complemented her routine, as she could spend her time on set working on homework as she continued her program at UBC.1 During this time, she also attended the Yaletown Actors Lab in Vancouver to help hone her acting skills. It was also around this time that Evangeline started a relationship with American ice hockey player Murray Hone, whom she married in 2003. However, the relationship did not last, and the couple divorced in 2004.
---
"Call me a bleeding heart Canadian, but I feel like if I'm not doing art that sends a very strong message, then what's the point of doing art? So many Hollywood films are just about entertainment, they're not about sending a message, they're not about telling the audience something about life."
"'Lost' Star Talks Up Movie at TIFF, Recalls Ill-fated Stint as Flight Attendant," The Canadian Press, Sept. 10, 2008.
---
That same year, Evangeline auditioned for the role of Kate Austen on the television show Lost, a science fiction, mystery television show that would go on to be one of the most critically acclaimed shows of all time. The breakout success of the show would launch Evangeline into stardom, making her a household name over the six seasons of the show. For her performance in Lost, Evangeline was awarded the Screen Actors Guild Award for Outstanding Performance by an Ensemble in a Drama Series in 2005, and was nominated for many more, including a 2007 nomination for a Golden Globe Award for Best Actress in a Television Series Drama. While she was still working on Lost Evangeline met Norman Kali, who was working on the show as a production assistant. The two began a relationship in 2010, and by May 2011 Evangeline gave birth to their first child, Kahekili. A second son followed four years later, in October 2015.
It was also during her time on Lost that Evangeline had a series of unpleasant experiences with being asked to do partial nude scenes. In the third season of the show, she was required to do a scene partially naked, and felt that she was pressured into it. When a similar situation played out in the fourth season, she put her foot down, saying she would not take her clothes off for the show again. Years later, Evangeline spoke out about her experiences on the podcast "The Lost Boys," prompting the creators of the show to issue an apology.2
Her experiences on Lost and an aversion to the fame led Evangeline to be selective in the roles she accepted. She acted in only two feature films while still on Lost, appearing in the French existential drama Afterwards in 2008 and as the wife of lead Jeremy Renner in the 2009 war drama The Hurt Locker. Since the show's conclusion, she has appeared only in a handful of films, including Real Steel in 2011, two films based on J. R. R. Tolkien's The Hobbit, a horror comedy called Little Evil, and three films set in Disney's Marvel Universe, where she plays the superhero Wasp.
In addition to her acting career, Evangeline has tried her hand at writing, launching her own series of children's books called The Squickerwonkers. She was inspired by the works of Dr. Seuss, admiring the way he would fabricate words to suit his stories and rhymes. As a girl Evangeline wrote her own list of fabricated words, one of which she eventually used for the title of her book series. The series tells the cautionary tales of a group of marionettes and their various vices, including characters such as Selma the Spoiled and Lorna the Lazy.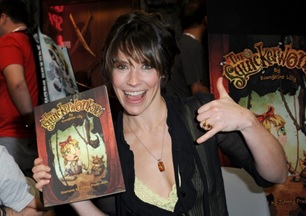 Evangeline Lilly holding a copy of her book. Image courtesy of Jeremy112233, Wikimedia Commons. Public domain.
The first book in the series, The Squickerwonkers: The Prequel was published in 2014, with three more in the series following in 2018 and 2019. Audiobook versions of the latest three were released, with Evangeline providing the narration, voicing ten different characters.
---
From her hometown of Fort Saskatchewan, Alberta, Evangeline Lily has launched herself onto the world movie and television stage, going from oil changes to starring in blockbuster films. Through her film work, as well as her writing career, she stands as an example to Albertans, girls, and women of what one can accomplish, without compromising one's principles.
Read more about Evangeline Lilly
---
Footnotes
1 Gayle MacDonlad, "The Blooming of Evangeline Lilly," The Globe and Mail, Sept. 11, 2005, https://www.theglobeandmail.com/arts/television/the-blooming-of-evangeline-lilly/article4351559/.
2 Jacob Stolworthy, "Evangeline Lilly Interview: After 'Lost', I Don't Trust I Can be Safe Doing Nude Scenes, Independent, Aug. 2, 2018, https://www.independent.co.uk/arts-entertainment/films/features/evangeline-lilly-antman-2-wasp-lost-kate-austen-interview-nude-scenes-a8471791.html.
Student & Academic Services for The Alberta Women's Memory Project - Last Updated March 03, 2022
Related Links