Profiles of Alberta Women
Marie Laing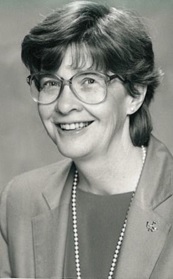 Alberta Legislature profile of Marie Laing. Public domain.
Personal life and education
On July 30, 1937 Marie Jean Laing (née Sprado) was born in Stettler, Alberta to William and Jean Sprado. She attended Docendo school, ten miles south of Stettler. There, in 1952, she won the Governor General's medal for the highest marks on departmental examinations amoung grade nine students in the Stettler inspectorate. After Docendo, Marie went to Red Deer Composite High School, living in dormitories at the school until she graduated in 1955. While at Red Deer Composite Marie was involved with the Radio Club, and served as the club's musical director. Also in the club was Bill Laing, to whom Marie was later married for a time, and with whom she had four children: Michael, Michelle, David, and Lauralee.
After high school Marie went to the Calgary campus of the University of Alberta where she studied to be a teacher. While there, she participated in the school's drama club, serving as secretary-treasurer. After completing her studies, Marie took a position as teacher in Stettler. She eventually returned to the University of Alberta after some time teaching, earning a degree in Arts in 1973.
She subsequently entered graduate studies, and in 1979 completed a Master of Education in Educational Psychology, becoming a registered psychologist. Her thesis, A. A. Aldridge: A Man of Vision, documented and analyzed the contributions to Albertan education by Aldridge, the first Supervisor of Guidance in Alberta. After her Master's degree, Marie began to work towards a PhD in Counseling Psychology at the University of Alberta. She also taught as a sessional instructor at the university throughout the 1980s, teaching courses including 'Rape and Sexual Assault' and 'Violence in the Family.' However, later in the decade Marie put her schooling and career on hold when she stepped into politics, and did not earn her PhD until years later, in 1999.
Work and activism
After her schooling, Marie was quick to put what she learned into practice, involving herself in various organizations and institutions in Alberta. She worked for many years with Edmonton's Rape Crisis Centre (now known as the Sexual Assault Centre of Edmonton), and served as administrator/executive director between 1978 and 1982. With the centre she advocated for victims by educating and dispelling myths and misconceptions about rape, publishing statistics, and calling for further supports, including specialized services for child victims and legal protection for wives who were assaulted by their partners.1
---
"I would suggest that attitudes which excuse violence by blaming the victim hinder the development of effective treatment programs founded in the 'victim precipitation' mentality deny violent offenders an opportunity to break destructive behavior patterns and ultimately cheat the offender as well as his victim(s) and society."
Marie Laing, "The Victim Should Not Take the Blame," The Edmonton Journal (Edmonton, AB) Jun. 1, 1984.
---
She also participated in peace activism in Alberta, working with the Alberta Branch of the Canadian Voice of Women for Peace (VOW) alongside other Albertan women, including Diana Chown. In 1988 an investigation that Marie and Diana undertook regarding ongoing military research, particularly chemical warfare research, at Canadian Forces Base Suffield (CFB Suffield) resulted in a protest at the base organized by VOW.2 The protest brought attention to practices of scientists in Suffield working with nerve agents, including multiple instances of dispersal of nerve agents into the air. The questions and concerns raised by VOW, the protests, and by other concerned groups in Canada led the federal government to conduct a study to investigate environmental and public health implications of research of the type done at Suffield. While the review was ongoing, Marie and Diana continued to raise public awareness alongside other activists, and leveled criticisms of the review process and lack of public engagement.3
Marie also involved herself with the Alberta Status of Women Action Committee (ASWAC). At various times she appeared in the newsletters of ASWAC as author, interviewee, and subject of articles, particularly once she began her political career. She also used the ASWAC newsletter to solicit input and feedback from Alberta women as a Member of the Legislative Assembly (MLA). Her advocacy for women's issues in the Alberta Legislature made her a frequent topic of the newsletters, and brought attention to issues that had previously had little visibility in Alberta politics.4
Political career
As a member of the Alberta New Democratic Party, Marie was elected to the Legislature on May 8, 1986 for the constituency of Edmonton-Avonmore, beating incumbent Horst Schmid by 93 votes. She held her seat for two elections before losing it on June 15, 1993. Her victory was part of a larger New Democratic sweep of elected seats within Edmonton in the 1986 election. 1986 was also the year that some explicitly feminist voices were elected to the Alberta Legislature, including Liberal Bettie Hewes and New Democrats Pam Barrett, Christie Miolsness, and Marie, all of whom used feminist discourse to force discussion on issues including discrimination, women in poverty, battered women, and gender equality. 5As psychologist and a divorcee with four children, Marie's experiences and education informed her attitudes. In an interview with ASWAC soon after her election she said, "The lack of economic choices makes women vulnerable … Women often have to stay in abusive or destructive situations because they have no alternative."6
Her first and perhaps most explosive comment came in 1986, soon after her election, when she challenged the Getty government's emphasis on the traditional family. In the Legislature she observed that "the most dangerous place in this society for women and children is the family [as] one in ten wives is battered."7 While her comment rankled many, it was one of the first in a series of volleys from the newly elected feminist MLAs that challenged Albertan systems and assumptions.
---
"Mr. Speaker, I rise to speak in support of this Bill [Bill 201, 'Quality Child Day Care Standards Act,' 1986]. I speak as an educator, a child psychologist, a parent, and a former user of day care. I've heard from both sides of this House that there are in fact good day cares and some that aren't so good. I would say to you that if your child is in one that is not so good, then there is one too many. We have to be concerned for each and every child in day care as we would be concerned for our own children. Second-best day care is not appropriate for any child."
Legislative Assembly of Alberta, "Thursday, June 19, 1986 2:30 P.M.," Alberta Hansard, Edmonton, Alberta, Canada, 1986.
---
Marie was a frequent critic of the works and scope of the Alberta Advisory Council on Women's Issues, established in 1986 to investigate, raise, and make recommendations on issues relating to equal participation of Alberta women in Alberta life.8 In 1988 Marie raised concerns that the appointments to the council did not reflect the diversity of the women it was to advocate for, saying "where are the waitresses, the sales clerks … the people who will speak for the divorced mother or single mother … who will speak for lesbian women?"9 Similarly, in 1989 she argued that the Council's focus should include the needs of rural women, and those of women in poverty.
Representation was also a concern for Marie with regard to the Immigration and Settlement Services Advisory Committee. She called for women to have equal representation on the Committee, and challenged the eventual appointment of only two women. Immigrant women were a particular vulnerable population for whom Marie advocated, raising the issue that their position as dependent or sponsored immigrants could be a barrier to access for education and job training.10 She also raised issues related to Indigenous women in Canada, criticizing how programmes and policies could overlook their unique context. For example, Laing noted the exclusion of Indigenous women from the process that created the Charlottetown Accord. She also made similar comments with regard to the Meech Lake Constitutional Accord, observing that changes to shared-cost programmes would impact Indigenous women in unique ways.
Marie's work extended to another underrepresented community as well: what was then identified as Alberta's 'gay and lesbian population.' Marie was the first MLA to ever mention the rights of this community in the Legislature, calling for representation for lesbian women in 1988.11 In 1992 Marie and Liberal MLA Bettie Hewes tabled petitions from the Parents and Friends of Lesbians and Gays, asking for sexual orientation to be included in protections against discrimination offered by the Individual Rights Protection Act.12
Throughout her tenure as an MLA of the opposition Marie served as critic for a variety of issues, including seniors, family, human rights, peace, women, education, personnel administration, and public service. She also participated in many standing committees, including the Select Standing Committee on Public Affairs, Select Standing Committee on Public Accounts, and the Select Standing Committee on Private Bills. An analysis by Linda Trimble of discussions of gender and diversity issues in the Alberta Legislature shows the extent of Marie's influence. Using the Alberta Hansard record of legislative debates, Trimble found that between 1986 and 1993 (the years Marie was active) about 40% of entries in the legislative debates on diversity were either statements by Marie or replies to questions she raised.13 Additionally, 32.5% of comments pertaining to women's diversity in Alberta are attributed to Marie in the same period.
---
"To me, politics is not about power because I didn't expect to win. It's about bringing about change . . . If change is going to occur, it has to be on both an individual and societal level . . . It's really about human relationships. Politics is setting the rules about human relationships."
As quoted in Mike Sadava, "An Education Interrupted," Edmonton Journal (Edmonton, AB), May 9, 2000.
---
Life after politics
In 1993 Marie retired from politics after she lost the Edmonton-Avonmore seat to Liberal candidate Eugene Zwozdesky. One of her last acts before leaving was to help organize Alberta Women's Lobby Day on May 17th, 1993. The event gave an opportunity for representatives from ASWAC member groups and Alberta NAC groups to meet with the caucus of each Alberta party to voice their concerns.
After leaving politics, Marie took a position as the Executive Director of the Women's Recovery Treatment and Healing (WORTH) Centre, an institution founded in October 1993 to provide assistance to women dealing with addictions. A feminist agency committed to feminist principles, the Centre challenged traditional models of dealing with addiction, choosing to take a holistic approach that incorporated healing from abuse with recovery from addiction. While the institution was originally planned as a two-year pilot project, it had its funding cut in 1994 after only nine months. Marie spoke out against the closure, writing in an ASWAC newsletter that "Results from the evaluation indicate it was a much-needed program that provided safety and an opportunity for healing not available anywhere else. In the words of one of our clients: 'closure of the Centre is devastating and tragic.'"14
After the closure of the WORTH Centre, Marie struggled to find another permanent position, relying on part-time work teaching and occasional counselling work. In 1996 she was selected to serve on a community health council in South Central Edmonton that was established to advise the Capital Health Authority in the city. She eventually returned to school, resuming her career that she had put on hold to represent the NDP. In 1999, she became a Doctor of Philosophy in Special Education. Her thesis, 20th Century Women: Redefining Equality, Justice and Freedom, used case studies to "[delineate] twentieth century Canadian women's struggles for recognition of their political and social claims as citizens and as persons."15 After finishing her doctorate, Marie found work in the offices of Wilson Banwell, a psychology firm. There she worked with clients that were referred to the firm from the employee assistance program.16
---
Marie Laing's careers as teacher, psychologist, academic, and politician demonstrate an ongoing commitment to equity and feminism. With ASWAC, the Sexual Assault Centre of Edmonton, and the WORTH Centre she put to work her training as a psychologist, and brought refuge to vulnerable women and children in Alberta. As a politician, she participated in raising a feminist voice that had not previously been heard in the Alberta Legislature, and used her position to bring attention to the inequities affecting underrepresented or unrepresented groups including Alberta's gay and lesbian population, immigrant women, and Indigenous women. In 1991 her contributions were recognized by the YWCA, which awarded her the YWCA Women of Distinction Award in the category of public affairs and communications.
---
Footnotes
1 "Child Rape Victims 'Need Aid,'" Edmonton Journal (Edmonton, AB), Mar. 27, 1979; "Rape Protection for Wives Proposed," Edmonton Journal (Edmonton, AB), Oct. 23, 1978.
2 Susan L. Smith, "The Voice of Women Against Chemical Weapons," Active History, January 25, 2017, https://activehistory.ca/2017/01/the-voice-of-women-against-chemical-weapons/.
3 Susan L. Smith, "Peace Activists and Public Health in Alberta: The Voice of Women against Chemical Weapons," in Compelled to Act: Histories of Women's Activism in Western Canada, eds. Sarah Carter and Nanci Langford (Winnipeg: University of Manitoba Press, 2021), 175-196.
4 A collection of ASWAC newsletters can be seen here: https://riseupfeministarchive.ca/publications/alberta-status-of-women-action-committee-newsletter/
5 Linda Trimble, "The Politics of Gender in Modern Alberta," in Government and Politics in Alberta, eds. Alan Tupper and Roger Gibbins, (Edmonton, University of Alberta Press, 1992), 219-245.
6 Luanne Armstrong, "Women & Poverty," ASWAC Newsletter, August 1987, 10, https://riseupfeministarchive.ca/publications/alberta-status-of-women-action-committee-newsletter/.
7 Linda Trimble, "Who's Represented? Gender and Diversity in the Alberta Legislature," in Women and Political Representation in Canada, eds. Manon Tremblay and Caroline Andrew (Ottawa, ON, 1998), 273.
8 Alberta Advisory Council on Women's Issues Act 1986, c A-13.5 https://canlii.ca/t/53r3j.
9 Trimble, "Who's Represented?" 273.
10 Ibid.
11 Ibid., 272.
12 Ibid.
13 Ibid.
14 Marie Laing, "The WORTH Centre," ASWAC Newsletter, September/October 1994, https://riseupfeministarchive.ca/publications/alberta-status-of-women-action-committee-newsletter/.
15 Marie Laing, 20th Century Women: Redefining Equality, Justice and Freedom, doctoral dissertation, University of Alberta, 1999, https://www.collectionscanada.ca/obj/s4/f2/dsk1/tape10/PQDD_0032/NQ46867.pdf.
16 Mike Sadava, "An Education Interrupted," Edmonton Journal, (Edmonton, AB) May 9, 2000.
Student & Academic Services for The Alberta Women's Memory Project - Last Updated March 03, 2022
Related Links