Profiles of Alberta Women
Muriel Stanley Venne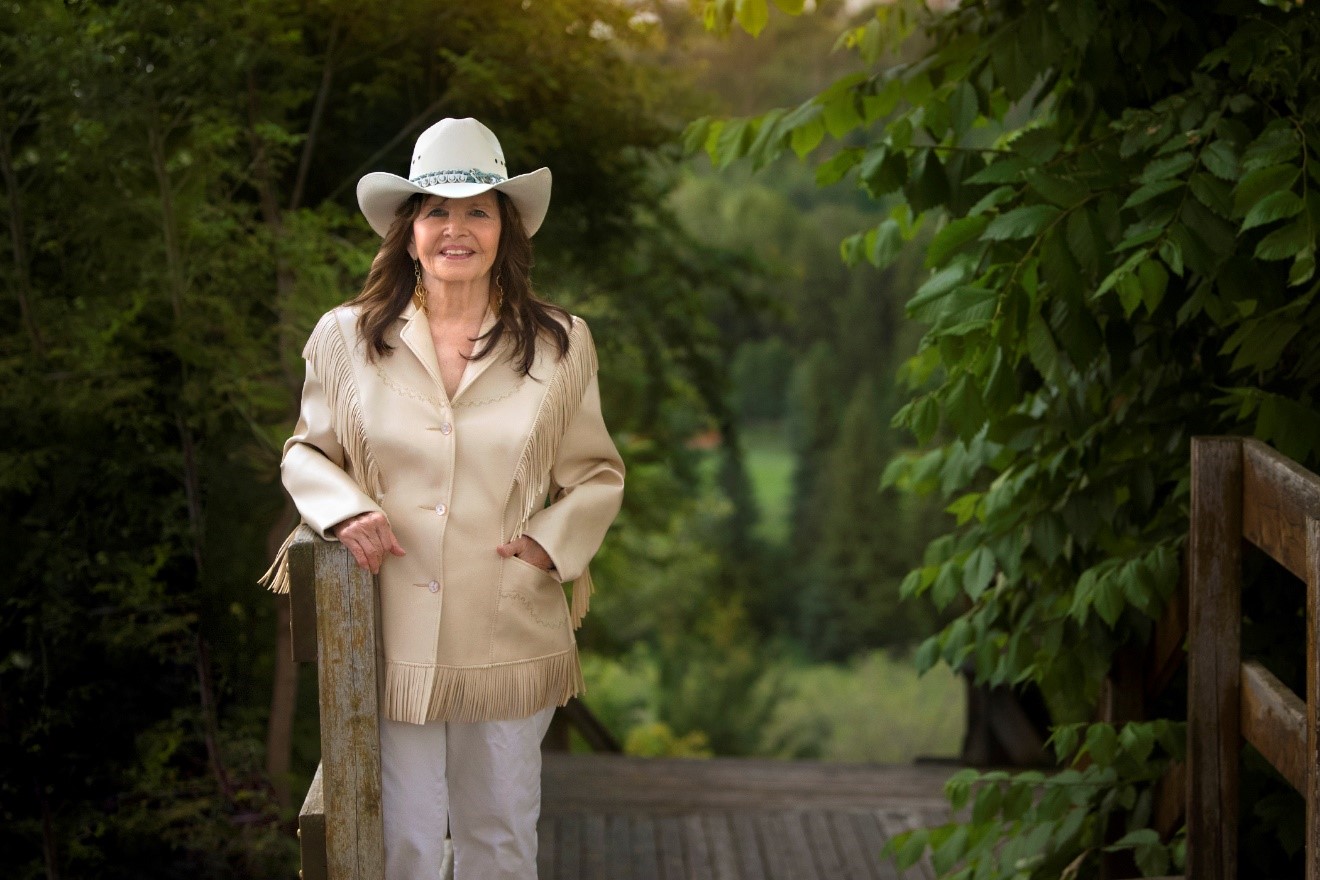 Image courtesy of the Alberta Order of Excellence.
Personal life
Muriel was born Muriel Esther Kopp in Lamont, Alberta in 1937. She and her twin brother Wesley Duncan Truman Kopp were the eldest of ten children, and grew up on a farm near the town of Whitford, Alberta, named after her great-uncle, Andrew Whitford. As the oldest girl, Muriel spent much of her time assisting her mother around the house, cleaning, cooking, and taking care of her younger siblings. Her family was one of four Métis families in the community, the rest being Ukrainian. Muriel and her siblings were included by the Ukrainian community, participating in dances, carols, and Christmas celebrations. As Muriel herself recalls "We were pretty happy little Ukrainians for that period of time."1
---
"Being the oldest girl – I have seven brothers – I was really very responsible for a lot of things in looking after the children and doing the work there, and felt I was really missing out on the good stuff like harnessing the horses and getting out of the house."
Winston Gereluk, "Muriel Stanley-Venne #1," Alberta Labour History Institute, March 29, 2013.
---
As a child, Muriel attended Manowin school, a one-room schoolhouse in Whitford. She continued her schooling in Whitford until she finished eighth grade, when she moved to Edmonton to join her family who had moved there the year prior. In Edmonton she attended Eastwood School, but her schooling was cut short in the tenth grade when she contracted tuberculosis. At fifteen, Muriel was forced to enter Aberhart Memorial Sanitorium, where she underwent a harrowing year of treatment.
After leaving the Sanitorium, Muriel returned to stay with her family, still too unwell to finish high school. As she had on the farm, Muriel helped her parents in the city by watching the children. The barriers to finishing school, and relegation to watching children wore heavily on her, as she recalls "So I ended up watching the kids. I wasn't well enough to go back to school, which was very, very devastating to me, but I was good enough to watch the children; so I did. It was probably the worst time in my life, when I thought that I was going to lose track of getting anywhere in life; I was just going to watch kids."2
At seventeen, Muriel married Albert Venne, with whom she had four children. Their marriage came to a violent end, becoming one of the driving factors behind her lifelong advocacy for Indigenous women who had suffered abuse. Muriel's experiences brought to the forefront for her the ways abuses like those she experienced were normalized or ignored, by both her family and the police.
After divorcing Albert, Muriel enrolled in university, taking an Education degree at the University of Alberta while supporting her four children. Through a line of credit, welfare, and a weekend job at Garneau Studios Muriel was able to maintain attendance for three years, but ultimately had to leave school to work. It was at this point that Muriel's advocacy work began, as she took on a position in job opportunities and placement with the Métis Association of Alberta.
Advocacy and employment
With the Métis Association of Alberta, Muriel started Native Outreach, a government program that pursued rights for Indigenous workers in Alberta. Muriel and Native Outreach offered training and seminars for workers, lobbied Albertan unions in to allow Indigenous workers to join, and combated prejudices against Indigenous people in the workforce on the part of individuals, unions, and companies. She saw the continued resistance to hiring Indigenous workers or allowing them into unions as part of the ongoing repression that started with residential schools.
While working as the head of job opportunities and placement, Muriel gave a presentation in Slave Lake to Alberta premier Peter Lougheed on discrimination and what her organization was doing. Her presentation led to her being appointed as one of the first seven members of the Alberta Human Rights Commission in 1973. Muriel served on the Commission as the Métis representative for four years, during which time she and the Commission advocated on behalf of individuals with claims of discrimination who could not afford legal assistance. While serving Muriel took issue with the fact that the Commission reported to a minister, arguing that, since many of the Commission's cases were against the government, they should report to the legislature, not a single minister.
After her work with the Commission, Muriel continued advocacy on behalf of Indigenous communities, particularly women. In 1994 she founded the Institute for the Advancement of Aboriginal Women (IAAW) to honour and advocate for Indigenous women in Alberta. The organization established the Esquao Awards, a community-based awards program for Indigenous women. Muriel initiated the Esquao Awards after she repeatedly had nominations of Indigenous women for other organizations' awards rejected. In addition to recognizing underrepresented women, the Esquao Awards opened up opportunities for recognition in these other organizations where previously nominations would fail. As Muriel observed "What we found [is] that once they get the [Esquao] award they would go on to get other awards, so it works very well."3
---
"The thing I was trying to change was to have people see my family and my people with love and caring. I really wanted people to be equal – with no hierarchy – just the right to be who you are and for women to be respected."
The Alberta Order of Excellence, "Muriel Stanley Venne CM, BA (hon)," Lieutenant Governor of Alberta, Government of Alberta, 2019.
---
Muriel and the IAAW were also involved in unveiling, critiquing, and changing the treatment of Indigenous women in the Canadian legal system. One of the IAAW's key projects related to the Gladue case, a Supreme Court of Canada decision from April 1999. The case, which pertained to the application of section 718.2 (e) of the Criminal Code, brought to the forefront issues of Indigenous identity and the need for acknowledgement and consideration of Indigenous background in the Canadian court system. In partnership with Women's Legal Action & Awareness Fund (LEAF) IAAW has demonstrated that the discrimination Cindy Gladue faced in the courtroom was not isolated, but rather is indicative of systemic mistreatment faced by Indigenous women in Canada both now and in the past.
In addition to advocacy, Muriel has worked towards the education of both Indigenous and non-Indigenous Canadians on various topics relating to Canada's Indigenous population. She played a key role in the production of The Rights Path-Alberta, a publication informing Indigenous Canadians of their human rights. Outside of the Indigenous community, Muriel has been involved in educating new Canadians about Indigenous issues. As a Presiding Official representing the Queen at citizenship ceremonies in Edmonton Muriel has taught new Canadians about the sacred agreements made between Indigenous peoples and the Crown.
Other organizations with which Muriel has served include the Alberta Labour Histories Institute, with which she advocated for recognition of the Métis ironworkers who built the CN Tower in Edmonton, the Canadian Native Friendship Centre of which she is a lifetime member, and the National Aboriginal Achievement Foundation whose board she has served on. Additionally, from 2008 to 2012 Muriel was the Vice President of the Métis Nation of Alberta. Muriel also serves on the Board of Governors of the Aboriginal Commission on Human Rights and Justice (ACHR&J), which engages in advocacy, research, and public education relating to Indigenous rights in Alberta.
In 2017 the province of Alberta recognized Muriel's lifetime of work by naming the Muriel Stanley Venne Provincial Centre in her honour. Located on 142nd Street and 123rd Avenue in Edmonton, the building is the first provincial building in Alberta to be named after an Indigenous woman. Speaking at the naming of the building, Muriel expressed hope for the future: "This is an incredible day for me … I'm so hopeful that things will really change for the Aboriginal women in the province and across Canada. I hope the naming of this building proves to be an inspiration for many."4
---
"[Speaking at a ceremony naming the Muriel Stanley Venne Provincial Centre] I hope this is a sign to young women and girls across the country that they can raise their voices and demand to be treated with respect. In the past, I didn't feel welcomed in my community, my province or my country. That has changed today."
"Building Named for Long Time Human Rights Advocate Muriel Stanley Venne," Alberta Native News, October 25, 2017.
---
---
Muriel Stanley-Venne's life has been one of tireless work in support of Canada's Indigenous communities, and one of resounding opposition to social and political forces that would downplay or erase them. Supporting Indigenous labour through Native Outreach, addressing discrimination with the Alberta Human Rights Commission, and founding Institute for the Advancement of Aboriginal Women (which still exists today) to bring opportunity and honour to women for whom it had been denied were all pursuits that brought the world closer to being an equitable place.
Read more about Muriel Stanley Venne
---
Footnotes
1 Winston Gereluk, "Muriel Stanley-Venne #1," Alberta Labour History Institute, September 20, 2013, http://albertalabourhistory.org/wp-content/uploads/2018/04/2013032801-2013032802-Stanley-Venne-Muriel-r-WG-cor-AF-1.pdf.
2 Ibid.
3 Ibid.
4 CBC News, "Province Names Government Building After Indigenous Activist Muriel Stanley Venne," CBC, October 25, 2017, https://www.cbc.ca/news/canada/edmonton/muriel-stanley-venne-building-name-1.4371461.
Student & Academic Services for The Alberta Women's Memory Project - Last Updated March 03, 2022
Related Links