Profiles of Alberta Women
Elaine McCoy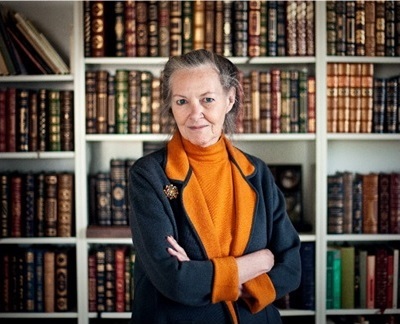 Senator Elaine McCoy. Image courtesy of Chris Bolin, Wikimedia Commons. CC BY-SA 2.0.
Personal life and career
Elaine McCoy was born on March 7, 1946 in Brandon, Manitoba. Her father was a mechanic in the Royal Canadian Air Force, so Elaine and her family moved frequently across Canada and to other countries for his various military postings. Eventually they arrived in Alberta, where Elaine would attend school, launch a career, and eventually step into provincial politics.
After finishing secondary school, Elaine attended the University of Alberta, earning a Bachelor of Arts in English in 1968 and then a Bachelor of Legal Laws in 1969. She had not originally thought to attend law school, but was pointed in that direction by the father of children for whom she had been a mother's helper.1 The direction turned out to be a good one, as Elaine loved law school, and learned much from the disciplined, analytical approach to studying problems. After graduation, Elaine began a legal career, working in both the public and private sectors. She first served as legal counsel for the Alberta Energy and Utilities Board, and later occupied the same position with the TransAlta Utilities Corporation. It was at TransAlta that she met Miles Patterson, marrying him in 1988. The two were married for over twenty years, enjoying a marriage that included much travel and a shared love of flyfishing until Miles' death in 2011.
Political work
Around 1980, Elaine moved to the Alberta provincial electoral district of Calgary-West, the riding represented by member of the legislative assembly (MLA) and leader of the Progressive Conservative (PC) party Peter Lougheed. Elaine got involved with Lougheed's campaign, volunteering with his constituency association. She met Lougheed on multiple occasions, including on a few trips door knocking. When Lougheed retired in 1985, he asked Elaine to replace him in his riding, a request that was supported by other members of the constituency association with whom she had worked. Elaine accepted, and began a decades-long career in Alberta's provincial politics.
Her first test came soon, in the 1986 provincial election on the eighth of May. Elaine won the Calgary-West seat handily, taking 64% of the vote, a total of 6,846 votes. It was a victory she would repeat in the 1989 general election, keeping her hold on the seat until 1993. After the election, the new PC leader Don Getty surprised her by immediately inviting her to join his new government's cabinet. Elaine accepted, and found herself in Edmonton serving as a cabinet minister.
Elaine was initially named minister of consumer and corporate affairs, and the following year was also named minster responsible for women's issues. In both capacities, she set about making her voice heard, and making meaningful change in the positions she held. As minister of consumer and corporate affairs, she oversaw a restructuring of the department that sought to shift focus to helping those who had been overlooked by the system. Her department pursued projects like the production of consumer information packages in an English as a second language (ESL) format to assist and inform immigrants to Canada. Elaine also brought knowledge from the private sector to her department, using private sector business plans to halve operating costs.2 As minister responsible for women's issues, Elaine pursued a wide range of projects, including initiating a career mentorship program for girls in junior high that enlisted women in the trades, professions, and in administrative positions. She also served as minister of labour and minister responsible for human rights and for Alberta's civil service, positions to which she was assigned in 1989. While in office, Elaine served on both the Select Standing Committee on Public Affairs and the Select Standing Committee on Law and Regulations.
When, in 1987, Elaine was named minister responsible for women's issues, she found herself in a mediating position between feminist organizations in Alberta and her government's efforts to address women's issues. These were manifest in the Alberta Advisory Council on Women's Issues (AACWI), an arms-length council that existed from 1986 to 1996 to advise the government and identify issues relating to women. When Elaine assumed power, the AACWI was struggling with internal conflict, which Elaine sought to alleviate by both emphasizing the role the organization had played in shaping government policy and defending them from criticisms leveled by the other women's groups such as the Social Issues Committee of the Calgary YWCA.3 Elaine also resisted requests from the Alberta Status of Women Action Committee (ASWAC) to expand the AACWI's role to include research, and made clear that only Conservative women would be appointed to the council, to ensure that the council fell in line with her government's policy.4
As minister responsible for women's issues Elaine also revitalized the Women's Secretariat (formerly the Women's Bureau) and expanded its influence in government policies and programs. Under her male predecessor, the Secretariat (which reported to her position) had been severely restricted, prevented even from using the words 'women,' 'equality,' or 'equity,' in its publications.5 In 1989, under Elaine, the Secretariat published the Alberta Plan of Action for Women, a group of policy proposals with a progressive bent. The proposals included an emphasis on diverse family structures as well as the need for economic equality for women in the home. While appealing to ASWAC and other progressive feminist groups in Alberta, the proposals were seen by some, including the Alberta Federation of Women United for Families (AFWUF), as an attack on the traditional family structure.6
In 1987, Elaine made headlines by becoming the first cabinet minister in Alberta to openly declare as pro-choice, a stance to which she has stuck throughout her career. In 1990, Elaine led the creation of the Lake Louise Declaration on Violence Against Women, an action plan for combating violence against women that was adopted by ministers responsible for women's issues across Canada. However, while serving as cabinet minster she avoided calling herself a feminist, distancing herself from women's groups that used the term, instead calling herself an 'advocate for women.'7 In her capacity as minster responsible for human rights she also established an inquiry into supremacist activity in Alberta through the Alberta Human Rights Commission, focusing in particular on the activities of the Aryan Nation.
In 1992, after the retirement of Don Getty as leader of the PCs, Elaine put herself forward as a candidate for leadership. She had learned from Peter Lougheed that "people will vote for something, not against something," and on that principle Elaine proposed the 'McCoy Plan', a plan for getting Alberta out of debt.8 However, Ralph Klein went on to win the leadership race and, after her term in office ended in 1993, Elaine left provincial politics.
In 1995 Elaine was invited by the Alberta Government to serve as chair for the Right-to-Work Joint Review Committee, which investigated the possibility of right-to-work legislation in Alberta. Right-to-work legislation would have recognized the principle that employees could not be compelled to join a union, or to pay union dues, or to have their 'right to work' otherwise restricted by union agreements. The committee received over two-hundred submissions, and ultimately found that right-to-work legislation would not be economically advantageous to Alberta and its workers.
In addition to her political work, Elaine lent her expertise to a variety of Albertan organizations. She was the former President of the Sir Winston Churchill Society, former Governor of the Calgary Centre for Innovative Technology, and former Member of the Canadian Evaluation Society and Law Society of Alberta. She also worked in various capacities to support environmental initiatives in Alberta, formerly serving as Vice-Chair of Climate Change Central, an organization aimed at reducing greenhouse gas emissions in Alberta, and authoring the Bow Corridor Regional Mobility Strategy, a framework for absorbing and managing transportation traffic in the Bow Corridor that looked at solutions that would not negatively affect the ecological integrity of the region. Additionally, she produced the Bow Corridor Regional Mobility Strategy while serving as President of the Macleod Institute, an organization affiliated with the University of Calgary that offered independent analysis and strategic counsel on environmental and regulatory issues.
---
"Women politicians do make a difference . . . And that's why I believe our agenda for the 1990s – the agenda of women and women's organizations – must be to encourage and help more women get into politics [because] . . . if more of us take seats in the legislature, at the cabinet table and in the top ranks of the public service, then gradually issues of concern to half the human race will no longer be ghettoized as 'women's issues' . . . If more of us sit at the table, we will transform the table."
Linda Trimble, "A Few Good Women: Female Legislators in Alberta, 1972-1991," in Standing on New Ground: Women in Alberta, eds. Catherine Cavanaugh and Randi Warne (Edmonton: University of Alberta Press, 1993), 110.
---
Senate
On March 24, 2005 Elaine was appointed to the Canadian Senate by Prime Minister Paul Martin as part of the centennial celebrations of Alberta's entrance into Confederation. Elaine chose to join neither the Liberal nor Conservative caucuses in the Senate, instead sitting as an independent Senator. As with the Klein government, Elain found the federal Conservative government to be too socially conservative, and felt that she could better represent her beliefs as a Senator unaffiliated with a particular political party.9
---
"I view my role as Senator as providing [an] informed, considered and independent perspective on current issues. I will speak from an Albertan perspective, and also as an independent Senator – which further frees me to do this job.
I am not subject to party discipline or approved policy directions, which creates a wonderful opportunity. The opportunity is to approach issues with an open mind and no pre-determined agenda – and to engage with you in an on-going conversation."
Elaine McCoy, "Why We Are Here," Alberta Senator.
---
As a Senator, Elaine wrote and published much in an effort to share her perspectives on Senate issues. She produced many opinion pieces and analytical articles in Canadian journals and newspapers such as The Globe and Mail and Maclean's. Her website, albertasenator.ca, was one of the first of its kind, letting her communicate directly with Canadians. It represented one part of a broader push for modernization that Elaine brought to the Senate. Another came in 2016 when she sat on the Special Senate Committee on Modernization and contributed to the production of a report that recommended the Senate televise proceedings, a recommendation that was implemented in 2019. Other committees that Elaine sat on included the Energy, the Environment and Natural Resources Committee, the Internal Economy, Budgets and Administration Committee, and the Rules, Procedures and the Rights of Parliament Committee.
While on the Senate, Elaine was also an advocate for the independent Senator, resisting partisanship in favour of individual choice. For a time, she sat under the designation of Progressive Conservative, a designation for the more centre-right party that had dissolved in 2003. She bore the designation as an homage to her conservative Albertan roots, seeing it as representative of a blend of fiscally conservative and socially liberal values. In 2013 she changed her designation to Independent Progressive Conservative, then to simply a Independent few years later.
In 2016 she served as the first facilitator for the Independent Non-Partisan Working Group, and subsequently as the facilitator for the Independent Senators Group formed the same year. She was also a founding member of the Canadian Senators Group (CSG), representing Alberta. Formed in 2019, the CSG is a group of senators whose primary concern is ensuring that regional interests are represented in Parliament. The group, which includes senators from both sides of the political spectrum, advocates a fact-based approach to voting, and does not expect its members to vote as a bloc.10
---
"No amount of public opinion should dictate to me what my job is. My job is to be the elder statesman . . . To hide behind the Senate's reputation or a particular group's reputation in the Senate is a dereliction of duty."
"Elaine McCoy, Longtime Alberta Senator and Former Cabinet Minister, Has Died," CBC News, December 29, 2020.
---
As she neared the mandatory Senate retirement age of 75, Elaine's health began to fail, at times impacting her ability to travel outside of Alberta. Despite this, she continued to take an active interest in ongoing Senate issues, including bills C-48 and C-69, bills of consequence to Alberta due to their implications for resources development and the environment in Canada. Though she was not on the committees relating to the bills, she attended committee meetings, keeping herself informed. Late the following year, on December 29, 2020 Elaine died peacefully in hospital at the age of 74.
---
In her political career of over twenty years, Elaine McCoy marked herself as a person of principle, and a mediator willing to take a difficult position in the interest of furthering political and social goals. With the Progressive Conservatives in Alberta, she made clear her resistance to certain socially conservative policies, declaring herself pro-choice, and being the first Albertan cabinet minister to do so. In her capacity as minster responsible for women's issues, she mediated between the conservative government and Alberta's women's groups, listening to the voices of the more progressive organizations while still asserting the authority of her party. As a Canadian Senator, Elaine maintained her principled position as an independent senator, advocating for Alberta's interests in the Senate without allowing the influence of political parties to sway her.
---
Footnotes
1 "Biography," Elaine McCoy: Canadian Senator, 2020, https://web.archive.org/web/20201230211653/http:/www.albertasenator.ca/your-senator/.
2 "Biography," Elaine McCoy: Canadian Senator, 2020, http://www.albertasenator.ca/your-senator/.
3 Lois Harder, "Feminists and Family Values: The Crisis of Alberta's Welfare State," in State of Struggle: Feminism and Politics in Alberta (Edmonton: University of Alberta Press, 2003), 79-118.
4 Ibid., 108.
5 Linda Trimble, "The Politics of Gender in Modern Alberta," in Government and Politics in Alberta, eds. Allan Tupper and Roger Gibbins (Edmonton: University of Alberta Press, 1992), 219-246.
6 Ibid., 237.
7 Linda Trimble, "A Few Good Women: Female Legislators in Alberta, 1972-1991," in Standing on New Ground: Women in Alberta, eds. Catherine Cavanaugh and Randi Warne (Edmonton: University of Alberta Press, 1993), 104.
8 Dale Smith, "Knockin' On Doors With Peter Lougheed, Maclean's, September 18, 2012, https://www.macleans.ca/news/canada/knockin-on-doors-with-peter-lougheed/.
9 Dale Smith, "Elaine McCoy is One of Four Holding Back a Conservative Majority in the Senate," Xtra, July 19, 2010, https://www.dailyxtra.com/elaine-mccoy-is-one-of-four-holding-back-a-conservative-majority-in-the-senate-34741.
10 Charlie Pinkerton, "New 11-Member Group of Senators to Promote Independence, Research and Regional Focus," iPolitics, November 4, 2019, https://ipolitics.ca/2019/11/04/new-11-member-group-of-senators-to-promote-independence-research-and-regional-focus/.
Student & Academic Services for The Alberta Women's Memory Project - Last Updated March 03, 2022
Related Links