Profiles of Alberta Women
Ethel Wilson
Personal life
In 1902 Ethel Wilson (neé Knight) was born on a farm in Sturgeon County, Alberta. A daughter of American immigrants, Ethel was one of six children, including five daughters. Her father Frank Knight was a political man, running in the 1905 provincial election in Alberta as the Conservative candidate for the Sturgeon district. Inspired in large part by the political discussions at home, Ethel would follow in her father's footsteps and run for provincial office, but not until after some time labouring as a single mother and union member in Edmonton.
At the outbreak of the Great War, sole responsibility for tending the family farm fell to Ethel and her sisters, as the men went to war. Taking on that responsibility meant Ethel had to leave school early, cutting short her education in the eighth grade. After the war, when she was twenty-three Ethel married David Wilson, a barber from Edmonton, with whom she had three children. However, in 1934 Wilson abandoned Ethel and their young children, leaving Ethel to fend for herself as a single mother during the Great Depression. It was around this time that Ethel, who had been a Methodist, underwent a religious conversion and became a member of the Pentecostal church.
Union work
In 1937, as a single mother of three, Ethel took a position at the Burns meatpacking plant in Edmonton. It was while working at Burns that she was first exposed to unionism, and began taking part in union activities. Ethel was hired to work in the laundry department as a seamstress, repairing and constructing the workers' uniforms. At the time she arrived, the packinghouses in Edmonton were bleak prospects for employees. Wages were low, and earlier that same year a strike had left many of the striking workers unemployed. Her position in the laundry afforded her the opportunity to engage with many of the other Burns workers on an individual level, an opportunity she used to full advantage. Ethel demonstrated an interest in her fellow workers' lives, encouraged them to file grievances if facing mistreatment, and stood out as an example to fellow female workers in their male-dominated work environment.1
The Second World War offered Ethel and her fellow workers, many of whom were women, the opportunity to organize and push for workers' rights. The shortage of workers meant that those who remained at home during the war gained more leverage to address their poor working environment. In 1943 Ethel and other workers at the Burns plant organized to create the local union chapter of the United Packinghouse Workers of America (UPWA) at their plant. Ethel was heavily involved in the local chapter, serving in various positions including vice-president from 1946 to 1951. The Burns workers were trailblazers for labour rights for Edmonton's packinghouses, becoming the first to unionize. Soon the other houses followed suit, and by the end of the war all four had joined the UPWA.
In 1947, as the vice-president of the local chapter, Ethel attended the UPWA international conference in Cleveland, Ohio. At the convention she chaired the Women's Committee for the union and pushed for the committee's recommendations to be given due consideration, going so far as to insist on presenting their resolutions a second time after the first presentation generated little discussion before the convention broke for lunch.2 In 1951 she served the UPWA as a delegate to the Alberta UPWA Joint Council, a body where representatives from all Alberta UPWA chapters could meet to discuss issues relating to labour in Alberta. In her capacity as the Burns delegate, she pushed the UPWA to take a stance against issues of wage variation across regions, and against the government implementing wartime wage controls. Outside of the UPWA, Ethel served as the secretary of the Edmonton Labour Council from 1948 to 1952, and as the representative for labour on Edmonton's Unemployment Insurance Commission's Panel of Appeals from 1950 to 1956, further expanding her reputation as an Alberta labour advocate in the 1940s and 50s.3
Political career
In 1951 at the outset of her political career Ethel was still an advocate for labour in Alberta. That year she ran for a position on the Edmonton City Council, but did not win. The following year she ran again, this time winning with a focus on issues relating to women, such as funding for completion of a maternity wing of the Royal Alexandra Hospital. This time she was silent on issues of labour, aligning herself more with the side of business, a stance that drew some criticism from her former union associates. In 1954 after her two-year term on the Council ended, she again ran and was re-elected, winning against various opponents including men from Edmonton's packing unions. Her re-election would become a pattern, and Ethel would go on to retain her council seat until 1966 when she retired, having won re-election five times.
While still on the Edmonton City Council, Ethel was recruited to the provincial Social Credit party for which she ran in the 1959 provincial election. Ethel was selected as the candidate for the newly formed district of Edmonton North, a district she won handily with 4,831 (53%) votes. As with her Edmonton City Council seat (which, unconventionally, she held throughout most of her tenure in provincial politics), Ethel would go on to win re-election, securing Edmonton North for the Social Credit party in both the 1963 and 1967 provincial elections.
While with the Social Credit party, Ethel continued to focus her efforts on women's issues. She emphasized her farming background, as well as her experience raising three children as a single mother, framing herself as a practical woman and embracing a populist image of femininity.4 Named minister without portfolio in 1962, Ethel served on the Executive Council as well as the Standing Committee on Railways, Telephones, and Irrigation, the Standing Committee on Agriculture, Colonization, Immigration, and Education, the Standing Committee on Municipal Law, and other special and standing committees.5 While in cabinet, she established the Alberta Women's Bureau, a provincial office meant to act as a resource for women to address issues affecting women such as poverty, sexual harassment, and violence.
Her support for the Social Credit, a decidedly anti-union party, and rejection of her labour background, makes her a controversial figure in Albertan labour history, both to her contemporaries and to biographers. She was heavily criticized in 1960 by Alberta's labour leaders when she endorsed the Labour Act amendment of that year. Among other things, the 1960 amendment restricted employees' ability to picket, and weakened bargaining units' power in the province. When she was appointed to the Social Credit government's cabinet in 1962, Ethel made use of the anti-communist, anti-labour Cold War rhetoric of the government.6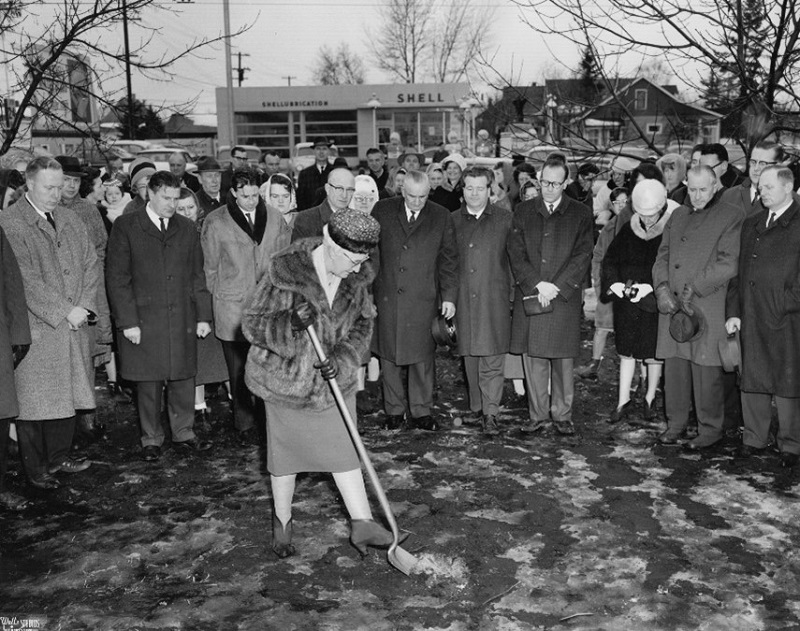 Ethel Wilson turns the sod for the new Central Pentecostal Tabernacle Church in Edmonton in 1964. The Pentecostal Testimony, Spring, 1964. Image courtesy of The Pentecostal Assemblies of Canada Archive.
While Ethel's shift from union activist to Social Credit politician may seem to be a contradictory transformation, as Dr. Cynthia Loch-Drake has illustrated, her shift can be interpreted through the lens of the politics of accommodation. While many saw her turn as a betrayal, it can also be seen as a strategic move. Cynthia Loch-Drake writes "It seems likely that Ethel Wilson sacrificed labour's interests within the limited political space the Social Credit government afforded her to establish a handful of institutions and programs for women and girls. A commitment to helping women and girls become more educated, politically engaged, and economically independent was a central theme connecting her life as a unionist and a politician."7
---
In her career as a labour activist Ethel Wilson left a lasting impact both on the individuals with whom she worked and on the UPWA, with which she advocated for better working conditions for herself and her fellow employees. As a politician, Ethel continued to stand up for women through the institutions and programs she helped establish, most notably the Women's Bureau. While of limited power when it was first created, the Bureau would go on to become the Women's Secretariat, a valuable resource for those who would continue to advocate for women's rights in the 1980s and 90s.
---
Footnotes
1 Cynthia Loch-Drake, "Labour Progressive? Political Opportunist? Betrayer?: Contradictions in the Life of Postwar Alberta Unionist Ethel Wilson," in Compelled to Act: Histories of Women's Activism in Western Canada, eds. Sarah Carter and Nanci Langford (Winnipeg: University of Manitoba Press, 2021), 155.
2 Ibid., 153-54.
3 Ibid.
4 Ibid., 160-61.
5 "Ethel Wilson," Legislative Assembly of Alberta, 2019, https://web.archive.org/web/20191204212345/http://www.assembly.ab.ca/net/index.aspx?p=memberprofile&mid=0394.
6 Loch-Drake, "Labour Progressive? Political Opportunist? Betrayer?" 164.
7 Ibid., 166.
Student & Academic Services for The Alberta Women's Memory Project - Last Updated May 10, 2022
Related Links