Memoir Collection
Barbara Azore
Barbara Azore was born in England and started elementary school the month that WWII started. The war ended the year she took her 11+ exam and went on to Grammar School. She married in 1957, earned a Diploma in Social Sciences from London University and had three children.
In 1967 she came with her husband and children to Edmonton where her husband had obtained a position at the University of Alberta Hospital. In 1970 she began working in the Edmonton Public School System, first in a Junior High School as a Science and Library Aide and from 1987 as the full time library Assistant in an elementary school.
She retired in 1997 so that she could visit her daughter and grandchildren in New Zealand in their summer. From 1968 to the present Azore has volunteered with various groups in Edmonton. She taught the Lamaze Method of Preparation for Childbirth in her living room; founded the Edmonton Childbirth Education Association; volunteered with the University Hospital, the Edmonton Food Cop-op and since retiring, with George Luck Elementary School.
She began writing and illustrating stories for her grandchildren in 1987 to accompany picture sweaters that she knitted for them. Her first children's picture book Wanda and the Wild Hair, was published in 2005, after she entered the Writer's Union of Canada's "Writing for Children" Competition in 1999. Two more, Wanda and the Frogs, and Wanda's Freckles, were published in 2007 and 2009. (all available at tundrabooks.com) She has had articles published in the Edmonton Journal and Birth Issues.
Azore lives in Edmonton where she enjoys visiting schools to read to the children, walking, English dancing, the theatre, and belonging to two book clubs. She has two sons and one daughter, their partners, six grandchildren and two more who have adopted her as their grandma. She enjoys and is proud of them all.
Student & Academic Services for The Alberta Women's Memory Project - Last Updated October 11, 2012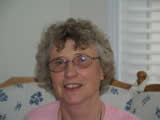 Works