Memoir Collection
Joy-Ruth Mickelson
In 1946 when she was in high school Joy-Ruth was soundly chastised for her "dangling participles." She was unsure how to catch hold of them and avoided writing for many years; she chose instead to communicate by the visual arts—painting; pottery; and sculpture. A career change liberated her writing spirit when she wrote university papers and social and psychological histories over several decades.
Her publications include: Our sons were labeled behavior disordered: Here are the stories of our lives. (2000)Troy. NY. Educator's International Press, Inc. Joy in the gates of Jerusalem. In Maria Elena de la Iglesia (Ed.) Dartington Hall School (pp.107-112). Exeter, (1996) UK: Folly Island Press. Her 2009 manuscript The Story of Joy is on its 'find a publisher' journey.
She is a member of Canadian Authors Association (Member at Large 1996-9), Writers Guild of Alberta and the Stroll of Poets Society. As an adjunct Assistant Professor at the University of Alberta her interest in narrative inquiry continues.
Student & Academic Services for The Alberta Women's Memory Project - Last Updated October 11, 2012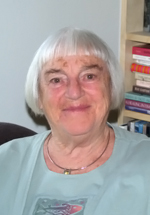 Works