Memoir Collection
Maria (Riet) J.E. Scott-van Lijf
I was born in Eindhoven, The Netherlands on January 28, 1933, the third daughter of Victor van Lijf and Jenny Jaegers. My Father worked for Philips Electronics and we lived in a rented house owned by the firm. When my Mother died in 1939, my little brother went to my aunt and we three girls went to a Convent School where we stayed when war broke out in May 1940. My Father remarried in 1941 and the family rented a house in a new neighborhood. My father and step-mother had two more children, a girl in 1943 and a boy in 1944.
We lived through the Second World War as described in my memoir. When I finished grade 10, I came home and went to High school for two more years. Then I followed a Secretarial course given by Philips. I worked for four years in the Small Appliances Department of Philips.
My friend went to Canada as an Au Pair and I decided to go too. I emigrated in 1955 and met my husband at C.N. in Toronto where I worked. We married in 1958 and went to Holland on our honeymoon. We moved to Montreal after our first daughter was born in 1960, then to Capreol, back to Montreal, then back to Toronto. We moved to Edmonton in 1977, when the children were in grades twelve, nine and seven. I worked for the Edmonton Public Library for the next fifteen years, until retirement.
Student & Academic Services for The Alberta Women's Memory Project - Last Updated October 11, 2012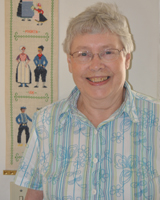 Works