Memoir Collection
Sylvia Chetner
Sylvia Chetner is a first generation Canadian. She was born in Calgary, Alberta during the end of the Great Depression and raised during the years of WWII. Her maternal grandparents homesteaded near Rumsey, Alberta at the turn of the 19th century.
She has lived all her life, except for her university years, on the Alberta prairies. She and her husband reside in Edmonton.
Sylvia is a wife, mother, grand mother and a librarian who turned to writing after retirement as a way to reflect on how she became who she is. She is an ardent reader and a woman whose sense of home is evoked by the prairie landscape.
Student & Academic Services for The Alberta Women's Memory Project - Last Updated October 11, 2012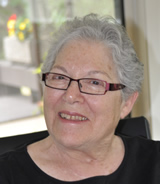 Works