Memoir Collection
Kay Dier
Kay Dier grew up in Central Alberta. Although times were hard she had a happy, carefree childhood. Her favorite memories are of exploring the badlands of the Red Deer River on her pony Tootsie.
Kay became a nurse and this opened a whole world of adventure. She enjoyed bedside nursing in many places, from Hawaii to the far north. After pursuing further education she became a professor of nursing at the University of Saskatchewan.  Subsequently she served several years with the World Health Organization in Iran, Africa and Asia before returning home to end her career at  the University of Alberta.
After retirement Kay had time to pursue her first love - writing. Her stories tell of people and places that enriched her long life journey.   
Student & Academic Services for The Alberta Women's Memory Project - Last Updated October 11, 2012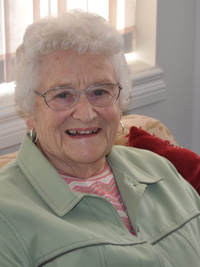 Works