Memoir Collection
Ursula Nyenhuis
Ursula Albers (Nyenhuis ) was born in Germany She came to Canada in 1958 to be with her sister (who was very homesick) and her family who lived in Edmonton. She adjusted to the different culture and liked living in Canada. But she missed her family in Germany and decided to go back. There was a romantic connection going on with a man in Edmonton who went to Germany to be her husband.
After marrying, they set up housekeeping in Edmonton, raised two sons and did a lot of traveling.
She is a cancer survivor and is glad to live in Canada.
Student & Academic Services for The Alberta Women's Memory Project - Last Updated October 11, 2012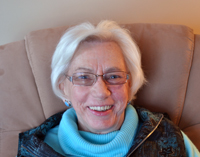 Works