Memoir Collection
Mufty Mathewson
Mufty is primarily a photographer, but one who writes. She photographs because basically, she doesn't know how to stop. It seems integral to her being.
She has published articles on photography and been telling stories with photography using multi projector slides shows with music for more than twenty five years. She has presented at Camera Canada College in Regina, in 1988, in Calgary in 1999 and in Abbottsford in 2002. She is a long time member of Images Alberta Camera Club and Alberta Representative for CAPA's Prairie Zone. She has taught photography at the City Art's Centre and Cross Cancer Institute in their Art in Medicine program.
MUFTY MATHEWSON is the mother of a brain injury survivor, Wendy. Her book, COURAGE AFTER COMA, details the multi-year struggle for her daughter to learn to live in society after her traumatic injury. It is in its seventh printing.
Mufty has been writing STORIES OF MY AGES, a multiple volume autobiography for a great granddaughter who does not yet exist. She longs for stories of her own grandmother who died before she was born so hopes these stories will give her descendents a picture of her life from 1933 to whenever.
Mufty has been married to her great support system, Bill, for 53 years and they have four children and three grandsons.
Student & Academic Services for The Alberta Women's Memory Project - Last Updated October 11, 2012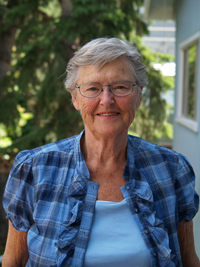 Works