Memoir Collection
Lena (McCullough) Myhre
Lena McCullough was born on a homestead at Pelly, Saskatchewan on August 8, 1915. In 1917 the family moved back to the Swan River district of Manitoba to a farm near Durban, MB. Lena finished grade VIII in a country school and completed the three years of High School in Durban in 1933, the height of the Depression. Since there were few, if any, opportunities for young women to support themselves in those years, she followed in her two older sisters' footsteps and worked as a 'hired girl' in her home district for the next three years.
In 1936, she left Manitoba to join her brother and sister-in-law in the Rainy Creek District near Bentley, Alberta. She continued as a 'hired girl' in the district and in the town of Bentley, except for a short sojourn in Calgary, until she married John Myhre in 1941. They raised three children, Dale, Sonja and Lee, and in 1956 she began working in the kitchen of the Red Deer Hospital. She retired as the Head Cook in 1979.
John and Lena have lived on the South Hill of Red Deer since their marriage. John died in in 1992 and with her advancing years, and progressive decline in her vision and hearing, Lena now makes her home at Canyon View apartments (still on the South Hill). Her seemingly small world is made larger by a volume enhanced telephone with which she maintains frequent contact with family across Canada, in Glasgow, Scotland and in Canberra, Australia.
Student & Academic Services for The Alberta Women's Memory Project - Last Updated July 31, 2013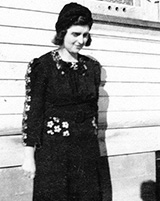 Works