Memoir Collection
Joyce Harries
Joyce Harries was born in Edmonton, Alberta in 1928 where she has lived most of her life. She is the mother of six children and has seventeen grandchildren.
She began writing in 1996 at a seniors' center's creative writing class. She took numerous creative writing workshops, received the first of two Alberta Foundation for the Arts grants, and published her first book, Girdles and Other Harnesses I Have Known (Lone Pine Publishing) in 2000. This lead to presentations at service clubs, seniors' centers book clubs and libraries.
In 2007 her second book, Twice in a Blue Moon (Spotted Cow Press) was published. It was the first trade book off the new Espresso printing press at the University of Alberta's Bookstore.
She has presented in the Writers' in Schools' Program in Edmonton for the past three years.
She is a member of the Writers' Union, a professional member of the Canadian Authors' Association. She sat on the Alberta branch CAA board 2007-09 as a member at large, liason between the WISP coordinator and the board and was on a subcommittee for the national convention in Edmonton, 2008), the Alberta Writers' Guild, and a full member of the League of Canadian Poets as well as an active member of the Edmonton Stroll of Poets' Society.
She presently has a sequel to the "Girdles" book looking for a publisher. She is working on her first novel which was a short story with no ending.
Joyce's wish for readers of her books is that they will reflect on their past, and recognize it's never too late to be open to new experiences.  
See more on her website:  http://www.joyceharries.com/
Publications
Girdles and Other Harnesses I Have Known, 2000 copyright Joyce Harries & Lone Pine Publishing, ISBN 1-55105-154-0.
Twice in a Blue Moon, 2007 copyright Joyce Harries, Spotted Cow Press, ISBN 978-0-9780415-1-9. Also available as an e-book through Northwest Passages: Canadian Literature Online.
Writing also appears in these anthologies and journals:
Wrestling With the Angel, copyright 2000 Caterina Edwards & Kay Stewart , ISBN 0-88995-201-9, Her Studio Was Her Kitchen, pages. 202-211.
City Palate, November/December 2001, Icewine Grape Harvest at Paradise Ranch, pages 8,9.
Journal of the Association for Research on Mothering, York University Publication spring/summer 2003, volume 5, #1, How to Leave Mothering, pages 119, 120.
Edmonton in Our Own Words, University of Alberta Press – Linda Goyette, copyright Edmonton Public Library Board, 2004, ISBN o-88864-428-o Tommy, p. 348.
Celebrating Poets Over 70, Centre for Gerontological Studies, McMaster University, 2010
Student & Academic Services for The Alberta Women's Memory Project - Last Updated October 11, 2012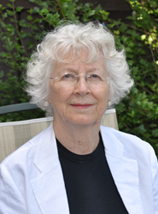 Works